ET Has First Footage From 'Sherlock Holmes' Sequel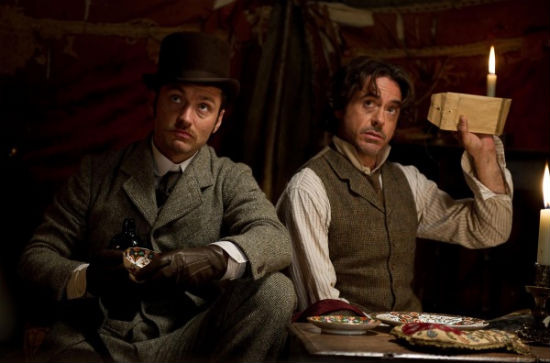 Entertainment Tonight (not the E.T. you were thinking of) got an exclusive visit to the set of the still untitled Sherlock Holmes sequel and came back with some very cool footage including gun shots, train escapes, director Guy Ritchie heckling his stars Robert Downey Jr. and Jude Law as well as Downey in multiple female costumes. You'll also get your first look at Noomi Rapace interacting with the boys. Check it out after the jump.
Thanks to Entertainment Tonight (with a nod to The Playlist) for this great look at Holmes.
Gotta say, I love the fact that Guy Ritchie is sitting on the side watching this interview like a hawk. That's my favorite part of the video because, unlike everything else, it feels unscripted. What's your favorite part? How do you think the film looks?