Anthony Hopkins In Talks To Play Alfred Hitchcock For Director Sacha Gervasi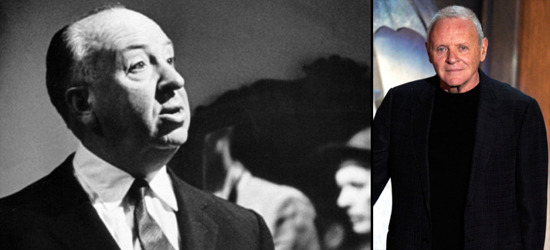 Just yesterday we told you that Anvil! The Story of Anvil director Sacha Gervasi is in talks to write and direct a film based on Stephen Rebello's book Alfred Hitchcock and the Making of Psycho. In the source article for that piece there was a mention that Anthony Hopkins was one of the actors mentioned as a possible on-screen Hitch.
That stemmed in part from a different version of the same film that was in development a few years ago under Running With Scissors director and Glee creator Ryan Murphy. That version never happened, obviously, but now the actor is in talks for the version being developed for Sacha Gervasi to direct.
THR says that in addition to adapting the core of Mr. Rebello's book about the making of Psycho, the John McLaughlin script has at its core the relationship between Alfred Hitchcock and his wife, editor and assistant director Alma Reville. She was Hitchcock's sounding board and constant collaborator for the fifty-four years of their marriage, and had a keen mind for dialogue and continuity. (In 2007, Helen Mirren was in talks to play Alma.)
I'm curious about how this version will differ from the previous one to which Sir Hopkins was attached in years past. He once told MTV that the film, then called Alfred Hitchcock presents, would essentially open along the lines of the director's classic TV show. He described a recreation of a murder committed by Ed Gein, upon whose crimes Psycho was partially based. Whether that structure and the Ed Gein elements might be in this version of the script remains to be seen. (Let us know if you've got info on the new script, though I expect that until Mr. Gervasi or another writer is signed and gets to work, any currently existing draft will be subject to change.)
Here's the video that MTV ran in 2007: