Page 2: Edgar Wright, Ghostbusters, David Lynch, The Dark Knight Rises, Paris Hilton, Top Gun, Banksy, Star Wars, Bill Murray And More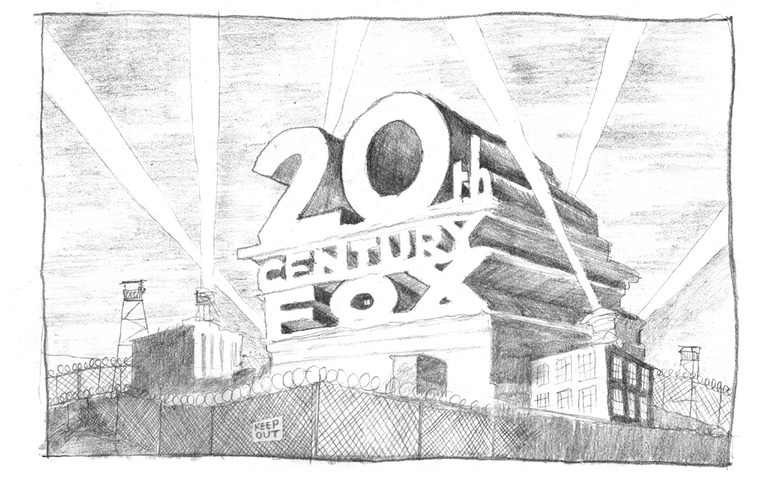 What is Page 2? Page 2 is a compilation of stories and news tidbits, which for whatever reason, didn't make the front page of /Film. After the jump we've included 33 different items, fun images, videos, casting tidbits, articles of interest and more. It's like a mystery grab bag of movie web related goodness. If you have any interesting items that we might've missed that you think should go in /Film's Page 2 – email us!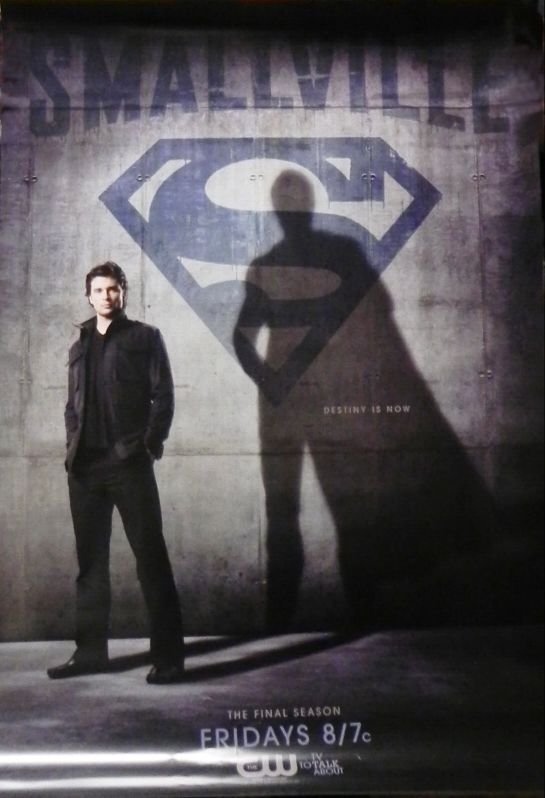 CW has released a new poster for the final season of Smallville which teases Clark Kent with a caped Superman shadow. [cbm]
You can now legally download David Seidler's full screenplay for The King's Speech.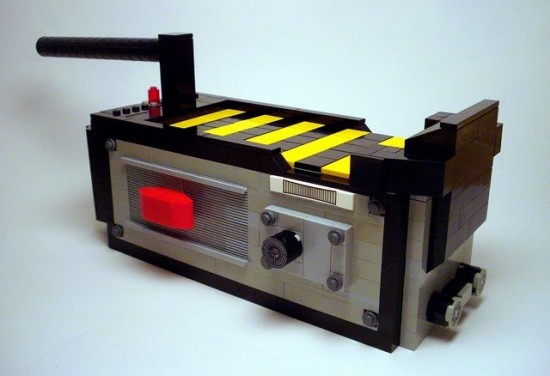 Alex Eylar has created a Ghostbusters trap using LEGO. [superpunch]
Showtime has renewed Californication for Season 5 after one airing. [deadline]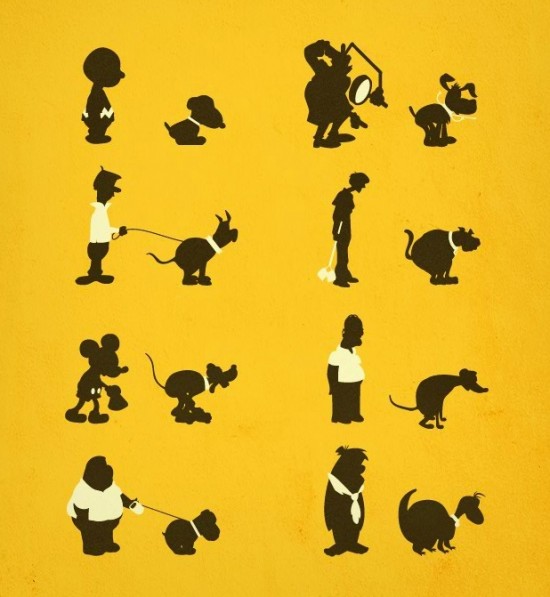 David Soames and Phil Jones have created this awesome "Please Pick Up After Your Pets" graphic featuring various animated characters and their dogs, cats, or dinos. The design has been submitted for consideration to become a threadless t-shirt. Vote it up here. [tdw]
Paul Picerni, who played Eliot Ness' right-hand man on TV's The Untouchables, died Thursday in a hospital in Palmdale, CA at age 88. [thr]
I know this isn't exactly new (its from 2007) but you must watch filmmaker David Lynch's response to product placement in movies.
Paris Hilton reveals her favorite movie scene to Movieline: "I really love the movie There's Something About Mary. One of the funniest scenes is when the dog, like, dies and Ben Stiller has to electrocute it back to life. Who was it? Ben Stiller or Matt Damon? [Editor's note: It was Matt Dillon.] And the dog, like, comes to life. I thought that was hilarious."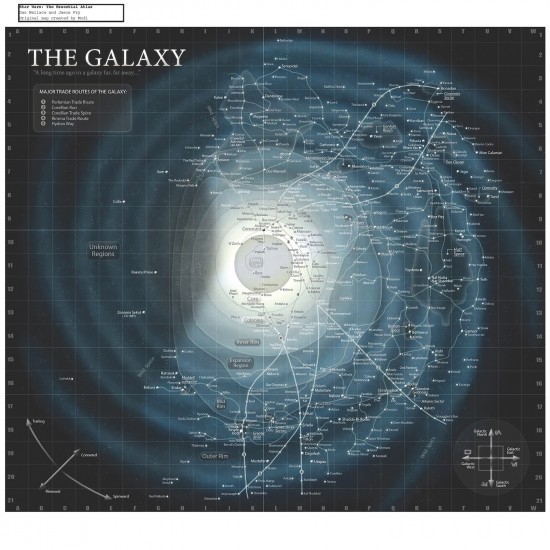 EW reminds us that Lucasfilm has released a map of the Star Wars galaxy.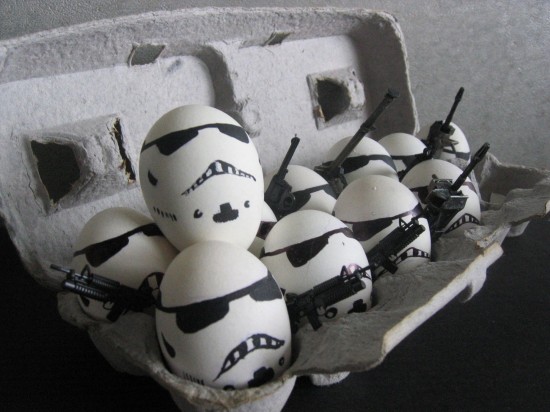 Stormtrooper eggs – fried or scrambled? [unique]
Wes Craven talks Scream 4: "Sid is under attack. She has a phobia – she's never come back to her town except for the funeral of her father. Now she's returning to a world that's sane again, and then, of course, immediately it is not!" [joblo]
Due to the amount of graphics and images included in Page 2, we have to split this post over a couple pages. Click the link above to continue to the second page of Page 2.
Here is a first look at the opening title sequence for Roger Ebert's relaunch of At The Movies. [ebert]
Oscar-nominated actress Susannah York passed away. She played Superman's Kryptonian mother, Lara, in Richard Donner's Superman: The Movie and two of the sequels. [bbc]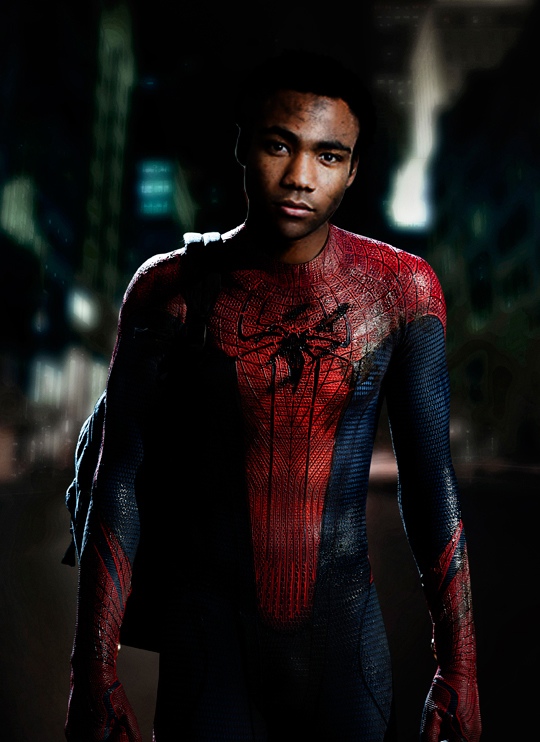 The internet still wants Donald Glover 4 Spider-man.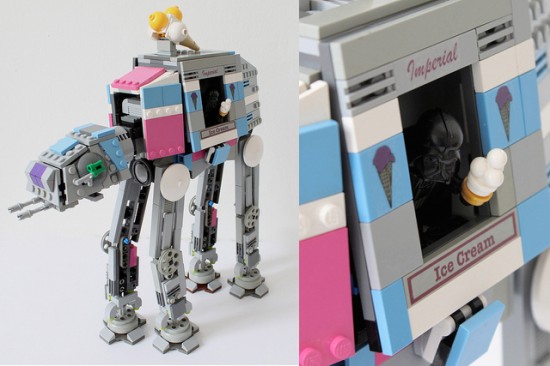 The All Terrain Ice Cream Transport AT-AT Walker. [laughingsquid]
Deviant Art artist shokxone-studios created this fan-made poster for The Dark Knight Rises.
Academy Award-nominated film editor Lee Smith talks to Flickering Myth about Matthew Vaughn's X-Men: First Class, and Christopher Nolan's The Dark Knight Rises:
"As I work on cutting X-Men: First Class [2011] all those sound skills are needed because the [film editing] systems we are working on now can continuously create moods and atmospheres right from the inception of a scene," says Lee Smith, "I see sound and picture as being impossible to separate because, as in life, everything we perceive is visual and audible. Each scene is its own beast. If you can pull it off without showing implicit violence it can be a successful way of creating a scene. I also believe what you think you saw can be much more horrific. My theory is that the longer you can resist putting music on a movie, the more you analyze and the more brutal you are on the images. Music is the great glue that can stick sequences together. Matthew Vaughn he has his own unique view. I'm not seeing much of him yet as we're still shooting." As for the performance of Jennifer Lawrence playing Mysique, Lee remarks, "She is very good in this." He also tells me, "It's a big film being done in a short amount of time. It's going to be intense but so far what I've got has been very good. Everyone is happy with it. So fingers crossed." On any involvement with The Dark Knight Rises, Lee Smith answers, "I'm booked to start that on May 1st." Upon mentioning the casting rumor of Rachel Weisz, Lee quickly responds, "Honestly, I don't know anything about it and that's how it always is with him. In the fullness of time I'll get a script. Secrecy with his projects is paramount." As for Zack Snyder's tentavily titled Superman: The Man Of Steel, "I doubt it because I don't actually know when that's one going to go. Probably, the director will pick his own editor and that's always a good idea."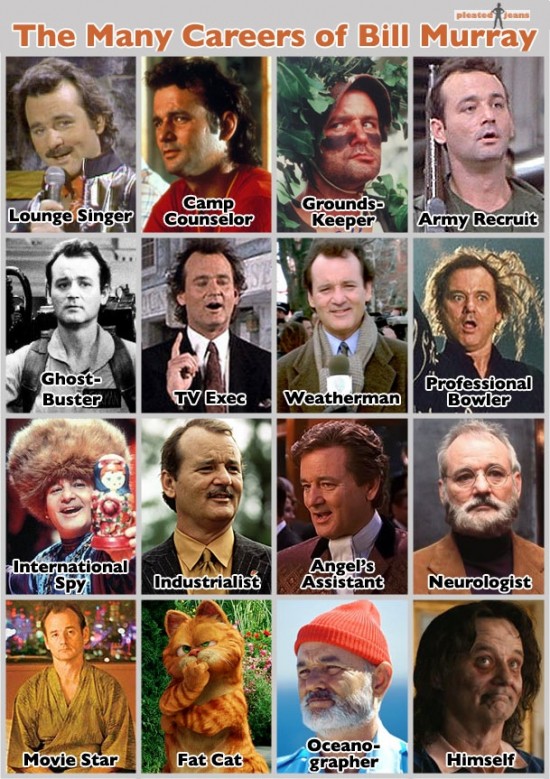 Pleated Jeans takes a look at the many careers of Bill Murray in this handy infographic.
Popping Popcorn with laser beams. [nerdcore]
The rights to Marilyn Monroe go to new owners, the company that also owns the Bob Marley brand, for nearly $50 million. [thr]
Read the final page of today's Page 2 by clicking the link above....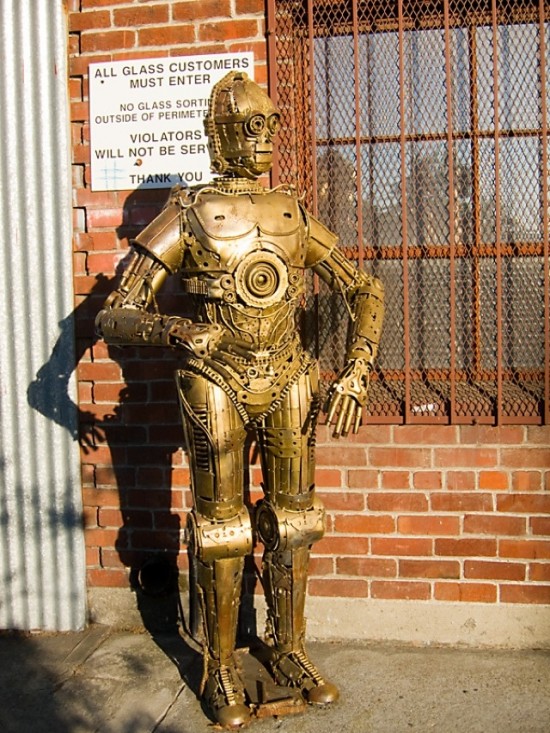 Alliance Metals in West Oakland created this C-3PO metal sculpture. [laughingsquid]Lifehacker explains how you can plant ideas in someone's mind (not quite Inception style)
How Top Gun should've ended...
Last week it was announced that Fox Searchlight would be issuing award screeners to SAG voters online via iTunes. Focus Features, and Paramount Pictures are following suit. [incontention]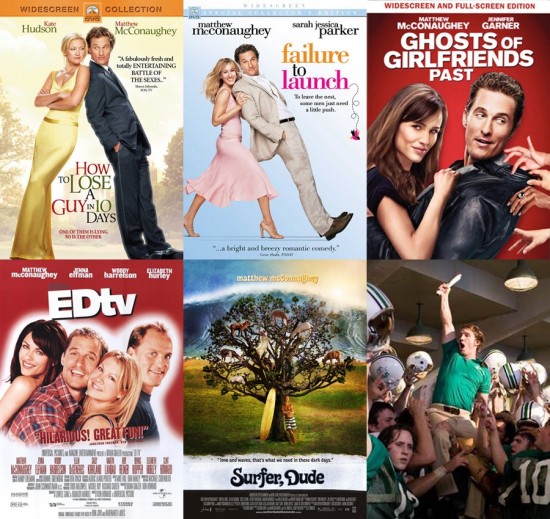 Poor Matthew McConaughey can't stand up by himself... [imgur]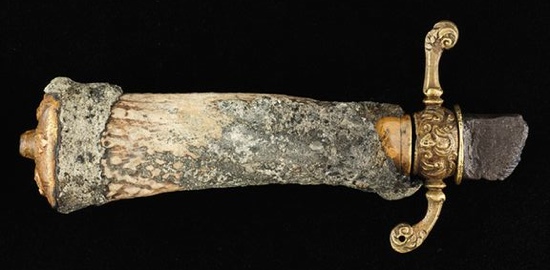 Blackbeard appears as a character in the upcoming Pirates of the Caribbean film, but some may forget that the famous pirate actually existed — his sword was just discovered by archaeologists off the coast of North Carolina. [nationalgeographic]
The Atlantic takes a look at the 15 Highest-Grossing Best Picture Oscar Winners.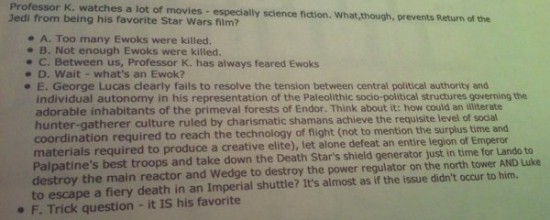 Return of the Jedi featured on a College Exam. [furiousfanboys]
Here is a trailer for Funny Or Die Presents: Season 2.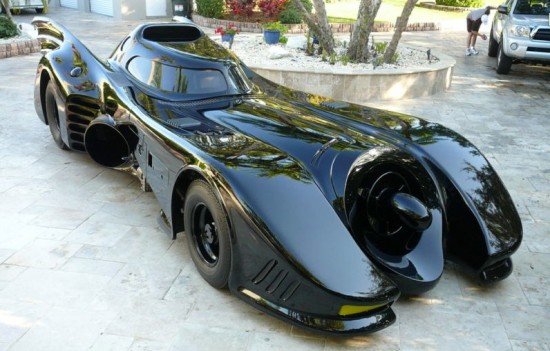 The Batmobile from Batman Returns is up for auction on eBay. The starting bid is $299,000 but you can buy it now for a measly $499,000. [usatoday]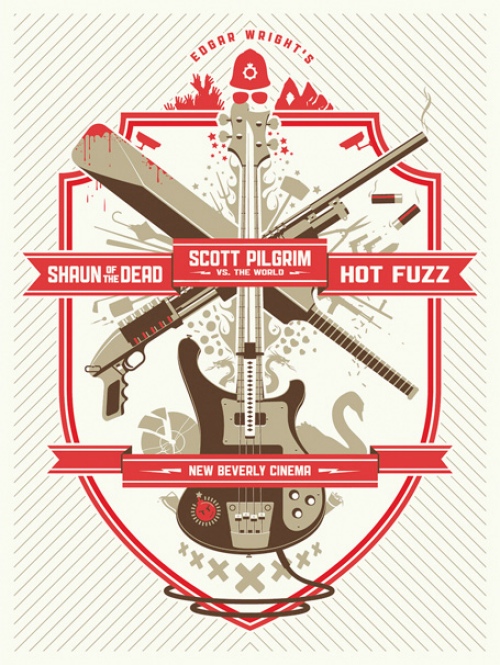 DKNG's poster for New Beverly Cinema's Edgar Wright triple feature (Shaun of the Dead, Hot Fuzz, and Scott Pilgrim vs. The World) are sold out. But here is a photo of the poster.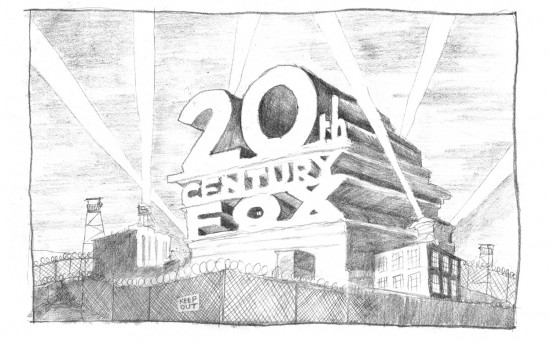 Banksy has released his storyboard sketches from his opening sequence of the Simpsons. (thanks to /Film reader Frederic van S)
LucasFilm has confirmed that the three Star Wars Blu-ray box sets will not include extra Digital Copies of the films for your computer.