Dan Deacon Discusses His Score For Coppola's 'Twixt Now And Sunrise'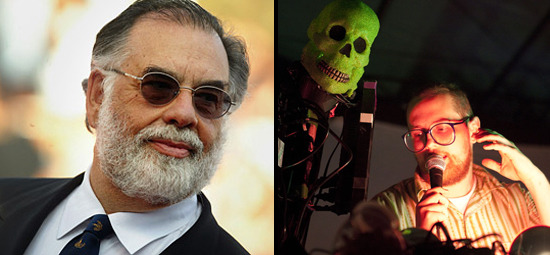 One of the most unexpected stories of last week was that Francis Ford Coppola has enlisted indie electronic knob twiddler and live performance ringleader Dan Deacon to score his new film, Twixt Now and Sunrise. The film is based on a short story that stemmed from a dream/nightmare experienced by the director, and stars Val Kilmer, Alden Ehrenreich and more.
We didn't know anything about the tone of the music when the story first cropped up, and given that Deacon's typical style wouldn't seem suited for a film that is reportedly close to Hawthorne and Poe in tone, we didn't know what to expect. Now Dan Deacon has given an interview to explain the situation, and it sounds like the opportunity of a lifetime.
Pitchfork talked to the artist, who explains that Francis Ford Coppola first emailed him out of the blue, then flew him to California, where they " hung out for a few days. I stayed in one of the houses on his property and we just hung out, watched movies, talked about music, went out to dinner, drank some wine."
The director's interest stemmed in Deacon's overall approach to his work:
I think he was most interested in my approach to music. We touched on the state of the music industry, and I talked about how it's easy for musicians to work outside the mainstream network because of the DIY infrastructure that has been laid down the past 25 years. A lot of other art forms don't really have that and they're sort of playing catch-up. I think he was interested in finding out more about that because he's been self-producing his own films for a while... The main thing we talked about was creating a unique experience and how music as a tangible form isn't a commodity any longer. Now, live performances make music important. Recording is cool and fun, and it's nice to document the thing you made, but the goal in my mind is to perform. I think that's the idea that interested him the most.
The actual chance to score Twixt Now and Sunrise didn't come during that first meeting, however. It was some time later that the call came:
A few months later, he sent me a script and told me to start thinking about music. When he described the movie as a "gothic romance"– in line with Hawthorne or Poe– I thought it was so weird that he picked me to do the music. But if someone was to go into this movie expecting to see The Godfather with distorted rapid-fire arpeggios, that's not gonna be the case. A lot of the stuff I worked on in college was really atonal, noisy chamber music, and that's what I'm going to focus on here. And there's actually another thing involved in this project that I can't announce yet.
That latter project is something that was alluded to in the press release announcing the partnership between the two. It's a tantalizing prospect, but I'm just happy to see Coppola expanding his base of collaborators, and looking outside the usual channels for ways to make his features unique. I'm more and more interested in this film, and am very much looking forward to seeing some footage.