Ron Howard's 'The Dark Tower' TV Series Will Be Six Hour Mini-Series; Bardem, Mortensen And Other Actors Are Being Considered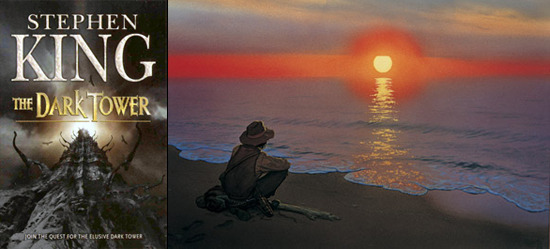 Ron Howard appeared on Thursday morning's Howard Stern Show on Sirius Satellite Radio to promote his upcoming comedy The Dilemma. And during the appearance, Howard revealed a few tidbits about his big screen and small screen adaptation of Stephen King's The Dark Tower.
As you know, the proposed multi-platform adaptation would interweave a trilogy of feature films and a network TV series. The plan is to kick it off with a theatrical feature, followed then by a season of TV episodes, which will transition into the second feature film, and so on. Ron Howard will direct the first film and the first season of TV episodes, with Akiva Goldsman (Fringe, I Am Legend, A Beautiful Mind) writing. Goldsman will also produce, alongside Brian Grazer and Stephen King.
"I don't know if it's going to happen or not, but I'm developing with Akiva Goldsman, the guy who wrote A Beautiful Mind and Cinderella Man, a version of Stephen King's Dark Tower series of fantasy stories And there is an element of it, if everything goes as planned, that we would like to do on tv. So we want to do part of it big screen, and then a lot of the character stuff — because Stephen King's stuff is so interesting and fascinating, and instead of trying to wedge it into a movie, let the movies be adventure and action."
When asked if the tv mini series would air on premium cable, like HBO or Showtime, Ron responded that he "can't go into the specifics of it, but NBC/Universal is doing it, and I think they'll be able to look at all of their television networks and see where it belongs." So if the miniseries happens, expect to most likely see it on NBC. When asked if he would direct the television stuff, Ron confirmed that "I would, yeah." And there have been rumors that Javier Bardem and Viggo Mortensen are front-runners for the lead role of the gunslinger Roland. When those names were brought up, Howard was quick to respond:
"And there are other names on the list... but we're still early on in the development of it." ... "But there are other people also being considered."
Ron speculated that the names were leaked possibly through the actor's agents, and called both stars "incredible actors".
"They are both artists, and so are some of the other people we're thinking of. But this is the situation. They have to see, in this case, that we're using both mediums to really tell a story and [commit for years]"
Ron clarified that the television portion of the adaptation"is really a six hour special", while "there is another element of it that could be television series but those characters..." Unfortunately Ron was cut off by another question from Stern before he could finish his thought. Later, when met with a critical fan, Ron responded that he hopes to make a good King adaptation:
"In a way it's Stephen King's life work. He's woven those characters in and around so many stories...  Hey look, there is always a risk when you adapt something and books are challenges. But I think a movie idea is there. And if I have my way, and if everything goes according to plan, which is of course a big ig — we'll be doing movies, we'll be doing television, and all of that isn't just [to make money] but all of that is to be as comprehensive as possible.The idea of doing part of it on the big screen and part of it on television is to try to include absolutely as much of the books, and even the graphic novels, as possible."
Here's a synopsis of the (currently) seven-book series:
The series incorporates themes from multiple genres, including fantasy fiction, science fantasy, horror and western elements. They describe a "Gunslinger" and his quest toward a tower whose nature the books call both physical and metaphorical. King has described the series as his magnum opus. Besides the seven novels that compose the series proper, many of his other books relate to the story, introducing concepts and characters that come into play as the series progresses.In the story, Roland Deschain is the last living member of a knightly order known as gunslingers and the last of the line of "Arthur Eld", his world's analogue of King Arthur. The world he lives in is quite different from our own, yet it bears striking similarities to it. Politically organized along the lines of a feudal society, it shares technological and social characteristics with the American Old West but is also magical. While the magical aspects are largely gone from Mid-World, some vestiges of them remain, along with the relics of a highly advanced, but long vanished, society. Roland's quest is to find the Dark Tower, a fabled building said to be the nexus of all universes. Roland's world is said to have "moved on", and indeed it appears to be coming apart at the seams—mighty nations have been torn apart by war, entire cities and regions vanish without a trace and time does not flow in an orderly fashion.