First Official Photo: Andrew Garfield In Spider-Man Costume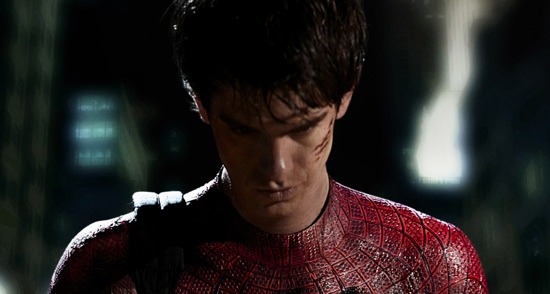 Sony has released the first photo of Andrew Garfield in costume in Marc Webb's Spider-Man. Hit the jump to see the full photo. Click on the image to enlarge.I'm guessing that Sony is gearing up to start shooting sequences with the suit in public locations, and have decided to release a good clean image of the costume before some crappy paparazzi image gets leaked.
I think Andrew looks PERFECT as Parker in the suit, although the gear looks a bit too glittery for my tastes (however, I'm sure I'll quickly get use to it). What do you think? Comment below!
Update: Does the First Photo of Marc Webb's Spider-Man Hold Clues About the Character?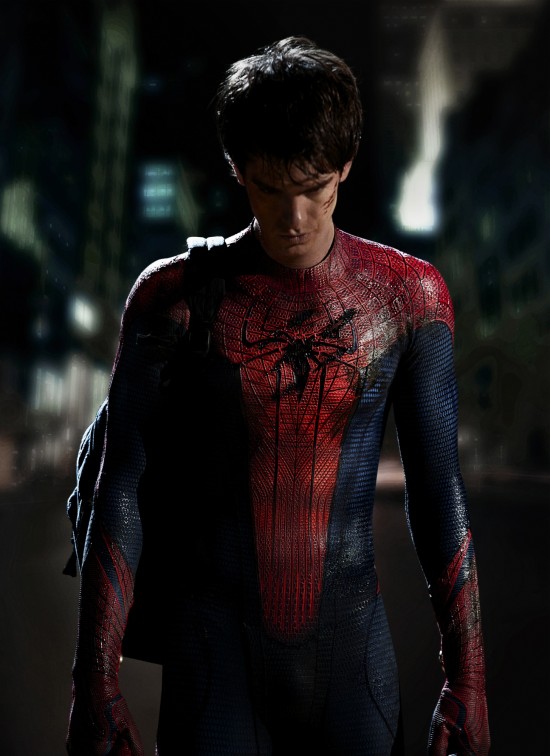 Previously:
The cast includes Andrew Garfield as Peter Parker and Spider-Man (well, a couple stuntmen and many computers will also be Spider-Man) and then Rhys Ifans as the Lizard, Martin Sheen as Uncle Ben, presumably Sally Field as Aunt May, and Denis Leary as the father of Gwen Stacy (Emma Stone).  Campbell Scott (Roger Dodger, The Spanish Prisoner) and Julianne Nicholson (Kinsey, Little Black Book) as Parker's parents, Richard and Mary Parker, who leave their son an orphan. Chris Zylka will play Flash Thompson.
Irrfan Khan (Slumdog Millionaire, The Darjeeling Limited) will play Nels Van Adder was a former research assistant who volunteered to become a test subject for a chemical developed by Stromm and Norman Osborn, which results in him becoming a villain named Proto-Goblin.  Annie Parisse (Rubicon, National Treasure) will play Van Atter's wife. It has been rumored that Chris Zylka has been cast as Eugene Thompson. The young Miles Elliot has been cast in Spider-Man as Billy Connors, the son of Dr. Curt Connors.  C. Thomas Howell will plays a character named "Ray".
Spider-Man is set to hit theaters on July 3rd, 2012.