Peter Berg's 'Battleship' Reshoots Built Into Production Schedule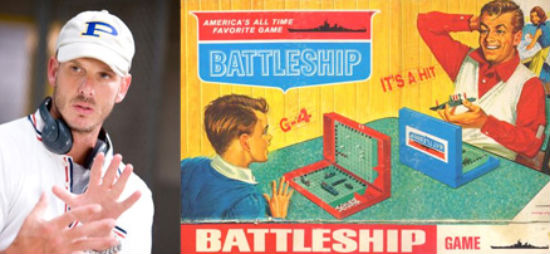 Mere days after James Cameron used Peter Berg's board game-inspired action movie Battleship as a prime example of the degradation of cinema, one of the film's stars has leaked some news that sounds worse than it is. Brooklyn Deckar, the model turned actress, who plays a love interest in the film, has been quoted as saying Berg shot "a bunch of alternative endings" and that they're going back to do reshoots. The big budget action film has been described as "a battle on land, sea and the sky between earth's forces and attacking aliens," according to Universal.
Sometimes "reshoots" is a code for "this movie doesn't work" but, according to Universal, these "reshoots" were built into the principal photograph schedule. There's a whopping 17 months until the reported $200 million action film is scheduled for release, after all. Read more specifics after the jump.
Deckar was in Brisbane cheering on her tennis-pro husband Andy Roddick when Moviehole caught up with her to get these quotes.
We will do reshoots. We have shot a bunch of alternate endings. There's a lot of CGI to be done – a lot of stuff in post....Yes, depending on the storyline and where they want to take it we might be doing some reshoots.
With a year and a half to go until release, it almost seems like everyone was just taking a break for the holidays and by "reshoots," Deckar just meant the shoot was continuing. Even if it is reshoots, though, if Berg has the time and the money, anything he can do to improve on a movie as big as this is a good thing.
As for the alternative endings, I'm not exactly sure what the actress could mean (maybe some stuff that sets up alternative sequels?), but no matter what, Deckar says everyone on set completely trusts Berg.
[Liam Neeson, who plays Deckar's father in the film] said to me, 'Pete's one of the better directors I've worked with because he gives you direction but he also allows you to be comfortable and free in what you do. And you'll likely notice that the movie doesn't feel like it's this polished super-styled movie, it's characters in conversation, it feels gritty and real.' – That's a huge compliment to Pete.
Universal has a lot riding on Battleship as it'll be the first of at least three Hasbro movies hitting the big screen. It'll be followed by McG's Ouija and Rob Letterman's Stretch Armstrong starring Taylor Lautner.
Battleship also stars Taylor Kitsch, Alexander Skarsgard, Rihanna and Liam Neeson. It's scheduled to hit the high seas on May 18, 2012.
Are you worried about Battleship possibly doing reshoots or do you just think Deckar simply misspoke?