'Happythankyoumoreplease' Trailer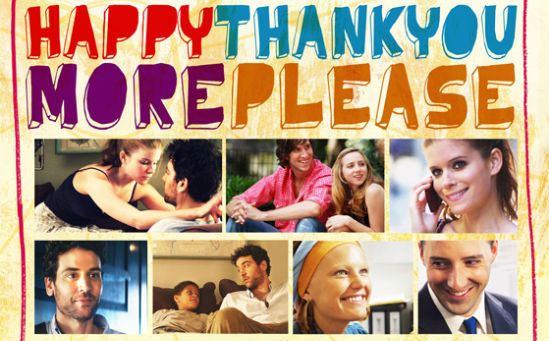 Winner of the U.S. Dramatic Audience Award at the 2010 Sundance Film Festival, Happythankyoumoreplease ( or "Happy Thank You More Please" for people who like spaces in their titles), was scheduled to come out this summer. It didn't – obviously – but finally, the funny, poignant and contemporary story of how a missing boy changes the lives of a bunch of struggling New Yorkers will be released this March. Written, directed and starring Josh Radnor of How I Met Your Mother, the romantic comedy also stars Malin Akerman, Zoe Kazan, Kate Mara, Pablo Schreiber and Tony Hale. The poster was revealed earlier today and you can check out the brand new trailer, and read some thoughts about the film, after the jump.
The trailer is available in HD over at Apple, but we've got a less than HD embed for you below.
First, a quick editorial aside. This movie is really good and this trailer is really bad. That's mostly because it doesn't give away all of the best things in the movie. So, that said, check it out, get a little disgusted, but know that the film won the prestigious Audience Award at Sundance for a reason. It's really sweet, funny and heart-warming even if this trailer makes it look unoriginal and stupid. Okay, now you're ready to watch the trailer.
Here's the official plot synopsis.
On his way to a meeting with a publisher, aspiring novelist Sam Wexler (Radnor) finds Rasheen, a young boy separated from his family on the subway. When the quiet Rasheen refuses to be left alone with social services, Sam learns the boy has already been placed in six previous foster homes and impulsively agrees to let the boy stay with him for a couple days. Dropped into Sam's chaotic, bachelor lifestyle, Rasheen is introduced to Sam's circle of friends; Annie (Malin Akerman) who has an unhealthy pattern of dating the wrong men, as well as an auto-immune disorder which has rendered her hairless, Mary-Catherine (Zoe Kazan) and Charlie (Pablo Schreiber) whose potential move to Los Angeles threatens their relationship, and Mississippi (Kate Mara), an aspiring singer/waitress who tests Sam's fear of commitment. When Sam's unexpected friendship with Rasheen develops, he realizes adulthood is not about waiting for the right answers to get the life you want, but simply stumbling ahead and figuring them out in the process.
Last year, I went to Sundance for three days to see as many movies as humanly possible. One of the ones I really wanted to see was this film and I enjoyed it. Then, on the final day of the festival, my friend and I camped out at the one theater that was showing all of the award-winners back to back to back. One of them, of course, ended up being happythankyoumoreplease (the others were Winter's Bone, Restrepo and Animal Kingdom, so that was a good day). Though I'd seen it already, and though I could have seen any other movie I wanted, I gladly sat through the film again and fell in love with it. It definitely has a little pretentious, Garden State-feel to it, but it's much less cynical than that. It's pleasant and extremely well-done.
Josh Radnor's happythankyoumoreplease comes out in March. What did you think of the trailer?