First Official Look At Rooney Mara As Lisbeth Salander In 'The Girl With The Dragon Tattoo'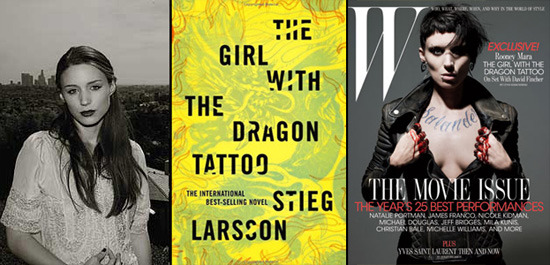 OK, this isn't a press still from the film, but it's pretty good, anyway. Rooney Mara is on the cover of W magazine, and she's in character as Lisbeth Salander, the heroine in David Fincher's version of The Girl With the Dragon Tattoo. Along with the image is a great profile on Mr. Fincher, which includes some new tidbits of info about the film. See a larger image, and read about the audition process — which contains spoilerish and graphic details — after the break.
Thanks to the success of The Social Network, there have been a lot more interviews with David Fincher of late than we're used to seeing. This one has some gems, but I'm not going to steal all of W's thunder and excerpt them here one by one. He reiterates his understanding of the film business:
I have no misconceptions; I know what the game is. They wanted me to do Zodiac because Se7en was successful and both are about serial killers. Now they offer me Girl With the Dragon Tattoo. They think, No one does perv quite like this guy.
...and provides a great summarization of his take on Rooney Mara, who instantly became his first choice for Mark Zuckerberg's companion seen in the opening scene for The Social Network:
Rooney may be a trust-fund baby from football royalty, but she's levelheaded and hardworking. It's so odd how who people are comes out in auditions. We didn't make it easy for Rooney, and there was no way to dissuade her.
As for The Girl With the Dragon Tattoo, if you haven't read the books or seen the Swedish film based on the first novel, might not want to read further.
The profile says of Mr. Fincher's version,
it departs rather dramatically from the book. Blomkvist is less promiscuous, Salander is more aggressive, and, most notably, the ending—the resolution of the drama—has been completely changed. This may be sacrilege to some, but Zaillian has improved on Larsson—the script's ending is more interesting.
And the audition process for choosing the new Lisbeth Salander, for which actresses from Natalie Portman and Scarlett Johansson to Jennifer Lawrence and Katie Jarvis were considered, was grueling, says the director:
It was hard...We had five or six girls audition with the rape scene. The girls had to kick a dildo up his ass. That's Salander's big scene, and we had to see if they could do it.
So the director is as exacting, tough and detail-oriented as always (when you see the film, know that all those piercings on Mara were done for real) which will hopefully contribute to something that really works. Reading this profile, and going in knowing that Trent Reznor and Atticus Ross are again working to create the score for David Fincher, have got me more ready to see his take on Stieg Larsson's novel.