Casting Bits: Russell Crowe Confirmed For 'The Man With The Iron Fist;' Amy Poehler And Will Arnett In 'Arrietty The Borrower' Voice Cast, Jeremy Piven & Mike O'Malley Join Miley Cyrus In 'So Undercover'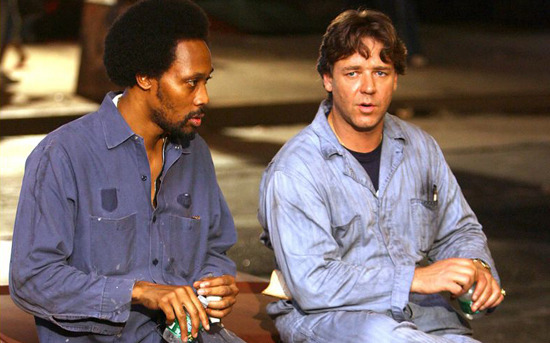 Wu-Tang Clan producer and MC the RZA is in China now shooting his first big studio feature as writer, director and star. RZA wrote The Man With the Iron Fist with Eli Roth, and the two have Lucy Liu, Daniel Wu and Byron Mann in the cast. Also in the latest report is word that Russell Crowe, long rumored to have a role in the film, is in fact part of the cast. Reportedly he'll be in China for most of February, which suggests that his part isn't a small one. [Film Business Asia via Twitch]
After the break,a Miley Cyrus movie gets slightly more weird, and Studio Ghibli's recent film Arrietty the Borrower gets two new voice talents for the English language version.
We're not often going to check in with the upcoming Miley Cyrus movie So Undercover because, well, I don't think you need any explanation there. Tom Vaughn (What Happens in Vegas) is directing an Allan Loeb and Steven Pearl script in which Miley Cyrus plays (yes, really) a street-smart private investigator recruited by the FBI to go undercover in a sorority. Don't question — just roll with it.
Now Jeremy Piven and Mike O'Malley will be cashing checks from the production office. The former will be an FBI agent, and the latter plays father to Miley. Also cast are Josh Bowman, Matthew Settle, Kelly Osbourne, Eloise Mumford, Lauren McKnight, Megan Park, Morgan Calhoun and Alexis Knapp. [the Wrap]
Finally, producer Frank Marshall has revealed a bit more of the English voice cast for the Studio Ghibli film Arrietty the Borrower. Amy Pohler and Will Arnett will play parents to Arrietty (Bridgit Mendler) in the localized version to be distributed later this year by Disney. The film, directed by Hiromasa Yonebayashi, with supervision by Hayao Miyazaki, was released in Japan on July 17, 2010. It updates Mary Norton's 1952 novel The Borrowers, placing the action in a modern Tokyo suburb.
Here's the synopsis once more:
14-year-old Arrietty and the rest of the Clock family live in peaceful anonymity as they make their own home from items "borrowed" from the house's human inhabitants. However, life changes for the Clocks when a human boy discovers Arrietty.