Page 2: Ninja Turtles, George Takei, Lost, Seth Rogen, Black Swan, Tron, Conan O'Brien, Ghostbusters, Aaron Sorkin, Return Of The Jedi, Batman And More
What is Page 2? Page 2 is a compilation of stories and news tidbits, which for whatever reason, didn't make the front page of /Film. After the jump we've included 29 different items, fun images, videos, casting tidbits, articles of interest and more. It's like a mystery grab bag of movie web related goodness. If you have any interesting items that we might've missed that you think should go in /Film's Page 2 – email us!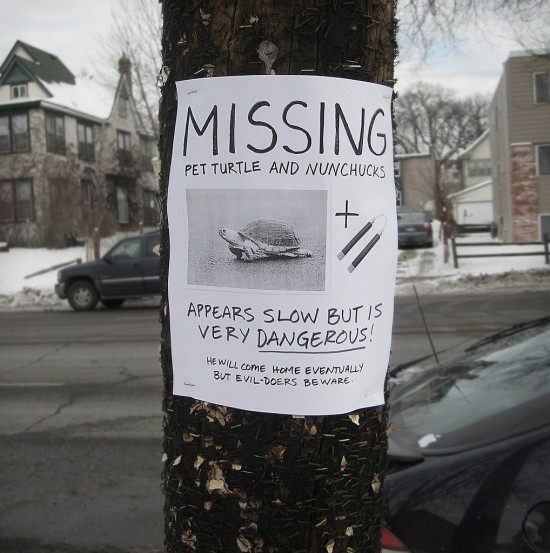 Missing Pet Teenage Mutant Ninja Turtle. Appears slow but is very dangerous. He will come home eventually but evil-doers beware. [unique]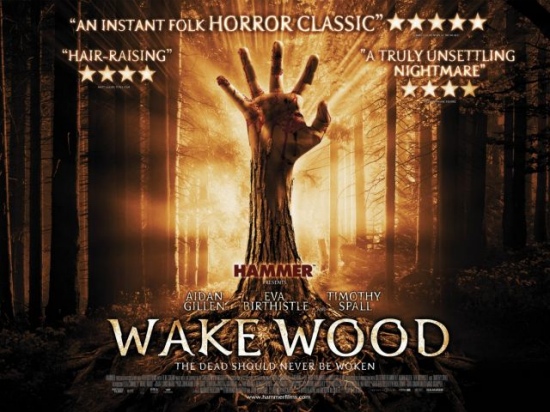 GeekTyrant has a UK Quad poster for Hammer's upcoming Horror film Wake Wood.
California judges listened to testimony this week in the ongoing legal battle between Facebook CEO Mark Zuckerberg and Cameron and Tyler Winklevoss. [wsj]
George Takei (Star Trek) co-stars in Nickelodeon's new television series Supah Ninjas, where he plays a Mr. Miyagi/Jedi trainer role for the main character. Watch the trailer above.
On-Location filming in L.A. is up 15% in 2010. [thr]
Green Hornet star Seth Rogen talks to CBM about his favorite comic books in the above video.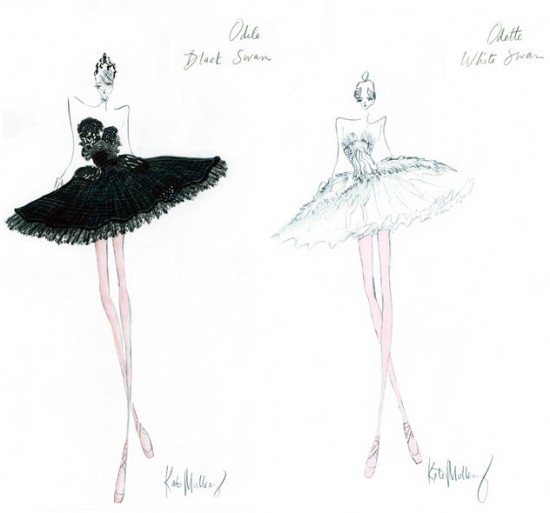 Vanity Fair has a look at the visual history of Rodarte in Darren Aronofsky's Black Swan in "From Sketch To Still". (submitted by /Film reader Lascelles L)SHH has an update on the horror comedy Jay and Seth vs. the Apocalypse, which Seth Rogen is developing with his long-time collaborator/co-writer (Superbad/Pineapple Express) Evan Goldberg:
"We've been writing our apocalypse movie, which is coming along," Rogen said in the interview. "It's crazy, it's kind of a horror-comedy. We like those movies like 'The Mist' and stuff where it's a bunch of people trapped in a place together and something horrible is happening outside, so that's probably what it will be like."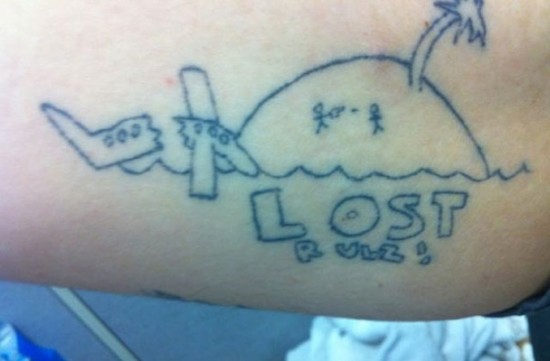 WarmingGlow claims that this is the crappiest Lost tattoo ever.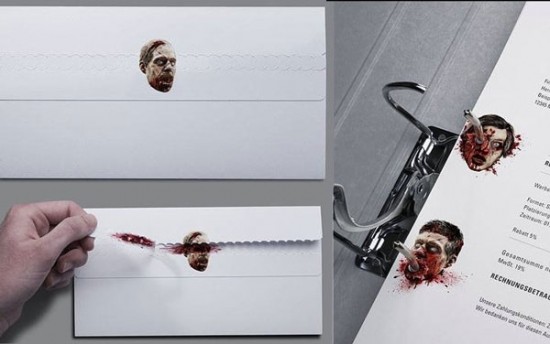 Zombie Stationary? Why not? [boingboing]
Someone created a Tron light cycle-inspired Segway modification. [gadgetlab]
Sam Rockwell talks Cowboys & Aliens on Shortlist:
"This is going to be a fun movie. I think we pulled it off. It's a mix of genres. I think because of the title people think it's a comedy, and it's not; it's like Unforgiven meets Close Encounters [Of The Third Kind]. ... I don't think it's really been done before. The only thing I liken it to is a movie like FROM DUSK TIL DAWN — it seems all very 'cops and robbers' and all of a sudden there's vampires. It's like that, in that you have a very formulaic western and then all of a sudden there are monsters. It's played very real."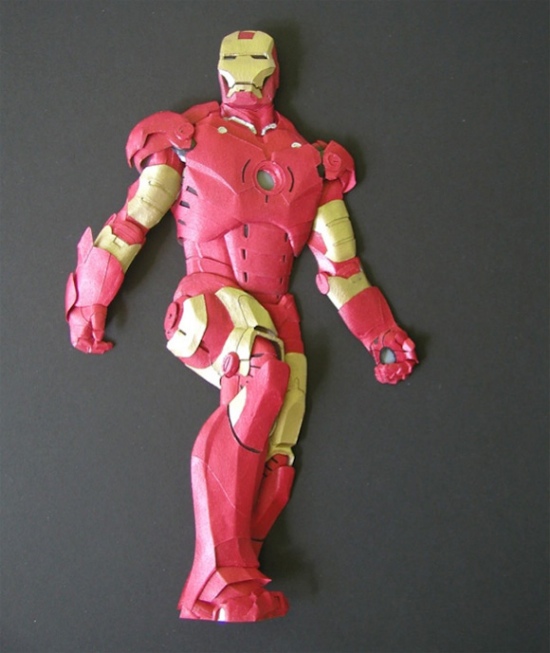 Korean artist Cheong-ah Hwang creates amazing sculptures out of paper. See more on Blognator. [via: bleedingcool]
Matt Nix's The Good Guys and Mitch Hurwitz's (Arrested Development) Running Wilde have been canceled. [aicn]
Take "A Walk in the Park" audio tour with Disneyland Imagineer Rolly Crump. Here is info from Tikitalk:
"Disney Legend and former Imagineer Rolly Crump, the creative force behind many great Disneyland and Walt Disney World attractions including it's a small world, The Haunted Mansion, and The Enchanted Tiki Room, has recorded a guided audio tour of Disneyland's most popular attractions filled with historical and entertaining insights, personal touches and heartwarming stories from Rolly's years working alongside Walt Disney and other Disney Imagineers."
$4.95 for mp3, additional $3 postage for CD. [via: boingboing]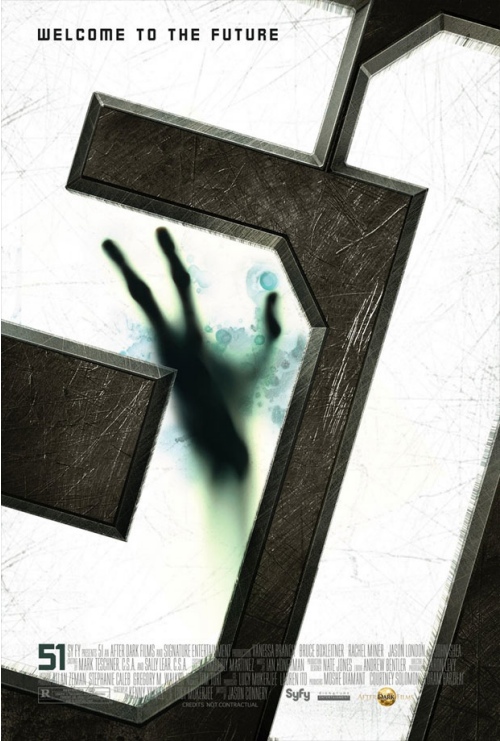 Shock premiered the poster for Jason Connery's 51.Blastr has "10 steps that defined every X-Files episode."Conan O'Brien teamed with DC animator Bruce Timm (Batman: The Animated Series) to create his very own superhero, "The Flaming C".Jonah Hex and The Wolfman are still eligible for an Academy Award... Best Make-up. [blend]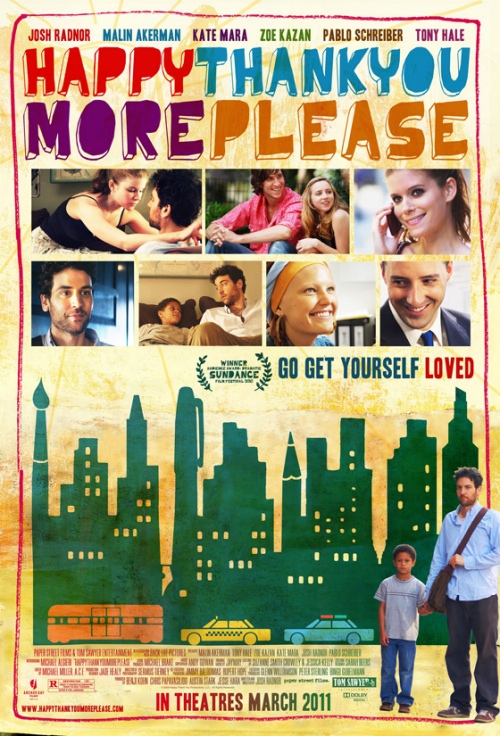 Vulture premiered the poster for Josh Radnor's Happythankyoumoreplease.
Disney will launch 25 new and remodeled interactive and immersive Disney Stores in 2011. [stitch]
Matt Mulholland performed a solo cappella multitrack recording of the Ghostbusters theme song. [greatwhitesnark]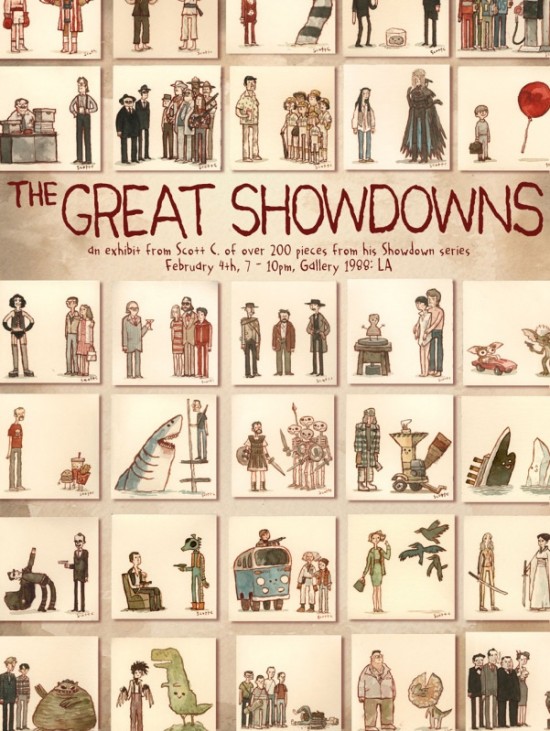 Gallery 1988 have announced their next art show will be Scott C's "The Great Showdowns."Vince Vaughn jokingly tries to defend his Christmas "comedy" movie Fred Claus in MTV's After Hours:
"I would say, watch it again. Take off the anger, get through the bitterness, and try to feature some class."
Watch the video from MTV above.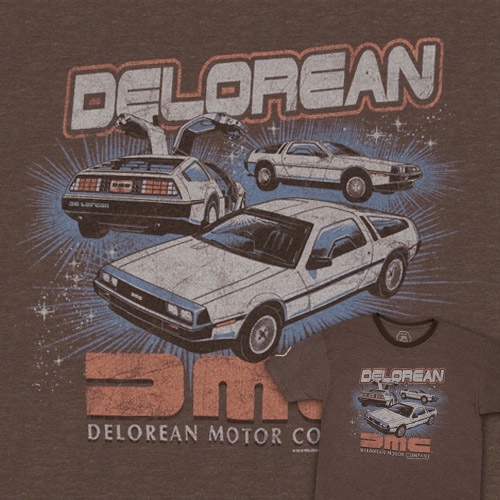 80stees has released an awesome Delorean Motor Company Ringer t-shirt.
At the New York Film Critics Circle awards, The Social Network screenwriter Aaron Sorkin took a fun jab at the absent David Fincher [nymag]:
"David couldn't be here. He's filming The Girl With The Dragon Tattoo. Production began ten weeks ago, which means David should be done with his first setup any day now."
Someone created a brief alternate ending to Return of the Jedi. [meta]
Director Bong Joon-ho (Mother, The Host) will be a member of the jury for this year's Sundance Film Festival. [thr]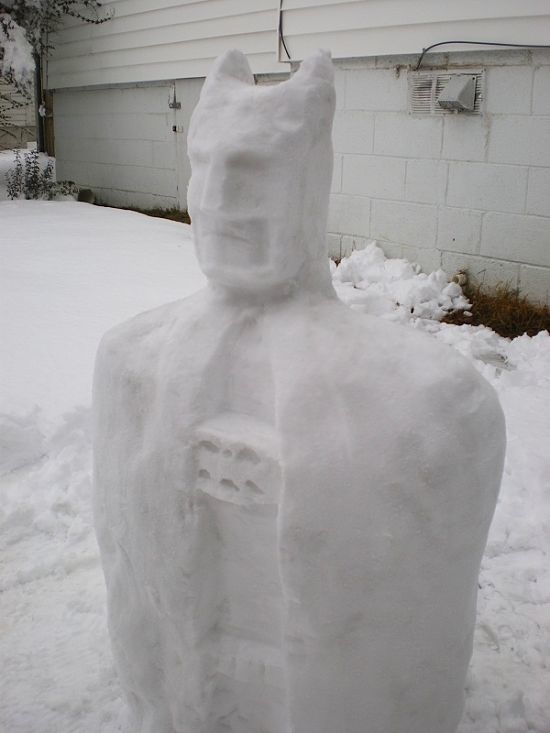 And lastly, here is a photo of Bat-Snowman. [unique]