Broadway Bits: 'Once' Musical Coming, 'Spider-Man' Is A Hit And Makes Cover Of 'New Yorker'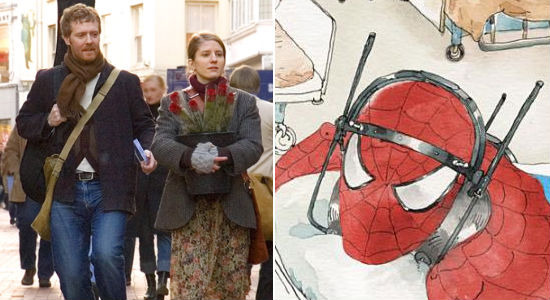 The behind-the-scenes ups and downs of Spider-Man: Turn Off the Dark are well-documented and could make a pretty insane story in its own right. But despite all its delays, injuries and money problems, it's currently the most popular musical on Broadway, grossing $1,588,514 last week playing to full houses even in its huge 1,900 plus seat Foxwoods Theater in Times Square. Oddly enough, the financial success of the show happens as it simultaneously gets slammed both on College Humor and, more importantly, on the cover of The New Yorker.
Staying in the movie musical category, it seems that the Oscar-winning film Once will finally be coming to Broadway this fall. We reported as much back in 2008 so it's excited to see it finally come to fruition.
See the full Spider-Man: Turn Off The Dark New Yorker cover, brand new College Humor video and read more info on Once: The Musical after the break.
The news of Spider-Man: Turn Off The Dark being the #1 musical on Broadway comes from The New York Times. It unseated long-running champion Wicked, which is going to be adapted into a mini-series. The one caveat is that Wicked sold 100% of its tickets while Spider-Man offered some discounts. Still, it's a huge step for the most expensive musical ever made and it'll have to keep this up for a few years to turn a profit for all involved. Wicked has been doing it since 2003.
At the same time, newsstands across the globe were graced with this cover of The New Yorker. Ouch.
And, College Humor released this "commercial" for the show.
But if the success continues, will the jokes stop? We'll have to wait and see.
As for Once, based on the 2006 film starring Glen Hansard and Marketa Irglova, Variety is reporting that the show will start in previews in Boston in April before moving to Broadway in fall. They have a creative team – scribe Enda Walsh, designer Bob Crowley, helmer John Tiffany and choreographer Stephen Hoggett -  but no word on stars or if Hansard or Irglova will be involved beyond the show just using their music.
Are you surprised that Once is actually happening or that Spider-Man could actually be a hit? And is it already passe to make fun of the troubled musical? As relevant as The New Yorker is, once the jokes hit there, isn't it over?