Casting Bits: Tina Fey To Star In Paul Weitz's 'Admission;' John Michael Higgins Joins 'We Bought A Zoo;' Two For Ron Livingston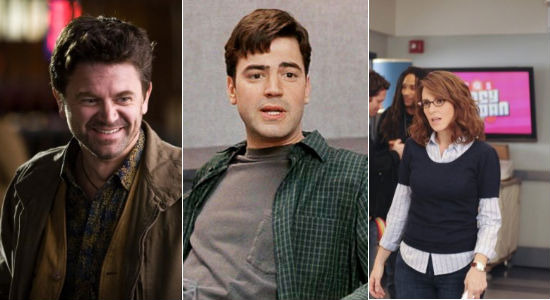 We may receive a commission on purchases made from links.
Hot off the $125 million (and counting) success of Little Fockers, director Paul Weitz has chosen his next project and is just about ready to lock up his leading lady. Emmy and Golden Globe winning actress Tina Fey is in final talks to star in Admission, based on a novel by Jean Hanff Korelitz. The film, which is being put together by Universal from a script by Karen Croner, centers on an admissions officer at Princeton who develops a relationship with a student who is not quite Princeton material.
In addition, John Michael Higgins, the hilarious character actor best known for his roles in the Christopher Guest movies, has joined the already stellar cast for Cameron Crowe's We Bought a Zoo and Ron Livingston (Office Space, Swingers) has signed on to join Jennifer Garner and Joel Edgerton in Disney's The Odd Life of Timothy Green, about a couple who wishes for a child. Livingston will also be part of the ensemble high school reunion film Ten Year. Read more after the jump.
The Wrap initially broke the news of Fey's attachment to Admission, which was then confirmed by Variety.
What neither article mentions, however, is that Korelitz's novel doesn't sound like a comedy. At all. Here's the Publisher's Weekly description thanks to Amazon.
Portia Nathan, the overly dedicated 38-year-old Princeton admissions officer, narrator of Korelitz's overthought fourth novel, finds purpose in her gatekeeper role. But her career and conscience are challenged after she visits a down-at-the-heels New England town on a scouting trip and meets Jeremiah, a talented but rough-around-the-edges 17-year-old who maybe doesn't measure up as Princeton material. The real rub is how making his acquaintance forces Portia to confront a painful secret from her past that ties into some domestic discord with her professor friend, David, and may lead her into a career-endangering fracas with the admissions board. The narrative is slow out of the gate, though it gets some pep once the Jeremiah-Portia angle comes into focus. And even if Portia tends to ruminate in an precious way, Korelitz makes good use of the sociological issues tied up in elite university admissions.
That actually sounds like a very interesting character piece. One that I'd love to see Fey tackle. However, with Weitz behind the camera, you can almost be sure that the script has been dumbed down with a lot of cougar jokes and stuff. Hopefully, Fey has enough clout to keep some integrity in it.
No one knows what the addition of John Michael Higgins to Cameron Crowe's We Bought a Zoo could mean. Higgins is a fantastic comedic actor, but he's also been known to bring a serious streak to his roles. According to the Hollywood Reporter, he'll be playing "a state zoo inspector cursed with an active and loud stomach who's got it in for Mee, played by Matt Damon." The article also officially confirmed Scarlett Johansson for the film, but we already knew that.
As for Livingston, he's been staying off the radar as of late (though he had small roles in two films this year) but the two projects he's signed to, The Odd Life of Timothy Green and Ten Year, are both pretty huge. Timothy Green is written and directed by Peter Hedges, who did Dan in Real Life and wrote What's Eating Gilbert Grape. There's no word on who Livingston will be playing, but with Garner and Edgerson starring in Disney film, chances are it's going to be big.
Ten Year, on the other hand, is even more star-studded with a cast that includes Channing Tatum, Rosario Dawson, Chris Pine, Anna Faris, Justin Long, Kate Mara, Anthony Mackie, Chris Pratt, Scott Porter and Jenna Dewan. Livingston is playing Dawson's wife, who just happens to be the former flame of the star, played by Tatum. Thanks to The Wrap for the info.
Out of those four projects, We Bought a Zoo is obviously the most high profile. What about the others? Do any sound exciting?