Page 2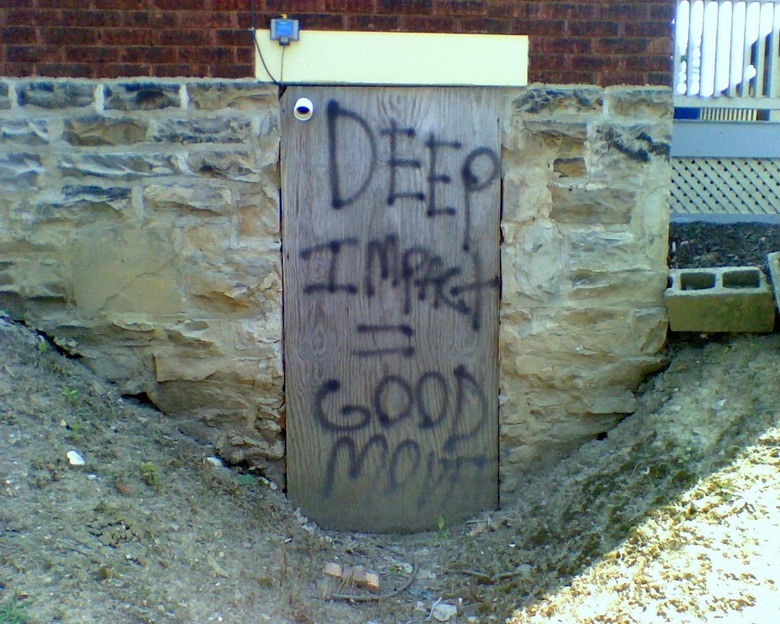 What is Page 2? Page 2 is a compilation of stories and news tidbits, which for whatever reason, didn't make the front page of /Film. After the jump we've included 26 different items, fun images, videos, casting tidbits, articles of interest and more. It's like a mystery grab bag of movie web related goodness. If you have any interesting items that we might've missed that you think should go in /Film's Page 2 – email us!
Artist Shinichi Maruyama created this amazing ultra-slow motion Water Sculpture Movie. [via: boingboing]
Michael Douglas tells Matt Lauer he's cancer-free. [ew]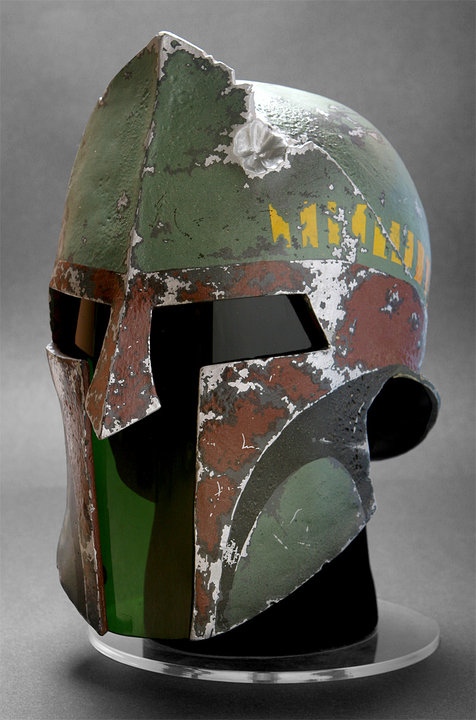 If Star Wars bounty hunter Boba Fett were a spartan warrior, his helmet might have looked like the above helmet created by Jon Wollack of Almost Dark Productions. [via: super]
Machete star Danny Trejo talks to Rotten Tomatoes about his five favorite films: The Searchers, Death Wish, Animal Factory, Dirty Harry, and Once Upon a Time in the West.Time Magazine readers asked director Darren Aronofsky 10 questions. Here is a couple excerpts:
Is it your aim to make your audiences feel uncomfortable? I definitely want to make them feel something. I'm inspired by the Cyclone roller coaster in Coney Island, where I grew up. It is the greatest ride in the world. I've always tried to construct my films with the same structure: intense, on the edge of your seat.
What kinds of movies do you watch in your spare time? I don't see you watching comedies, for some reason.I watch as many comedies as I can. But I probably watch kid films the most, because I have a kid. I get the occasional foreign film snuck in late at night. I don't have Netflix. I'd rather go to the movies.What films inspired you to become a director? I grew up in the Spielberg–George Lucas era, so going to see Raiders of the Lost Ark and E.T. and Star Wars–it was just an amazing time to come of age. But I always had a taste for alternative film. Filmmakers like Spike Lee and Jim Jarmusch were big influences and expanded [my sense of] what film could be.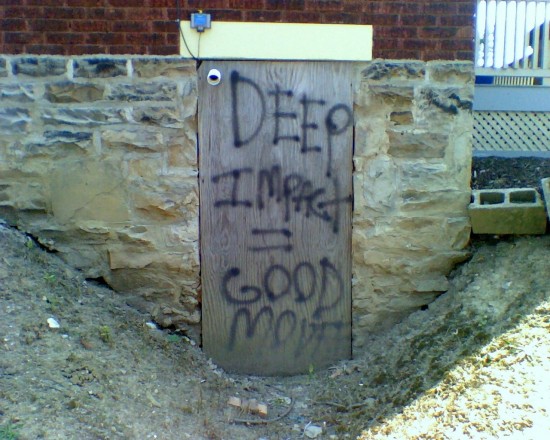 Freelance Movie Review [via: reddit]
Focus Features has moved the release date of the romantic comedy One Day, starring Anne Hathaway and Jim Sturgess, up to July 8th 2011. The filmw as originally going to be released in the fall. [variety]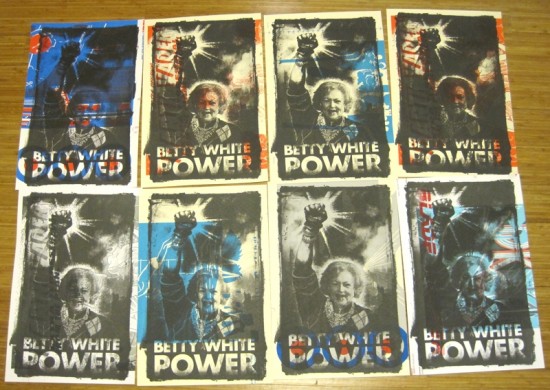 Icelandic artist, filmmaker, and musician Omar Hauksson "brings us a vision of the future where Betty White rules the atomic wasteland with an iron fist, making sure we're all nice to our domestic pets." Available in silkscreenprints on Nakatomiinc.
Read screenwriter and movie writer Drew McWeeny's short story The Interview on Popcorn Fiction.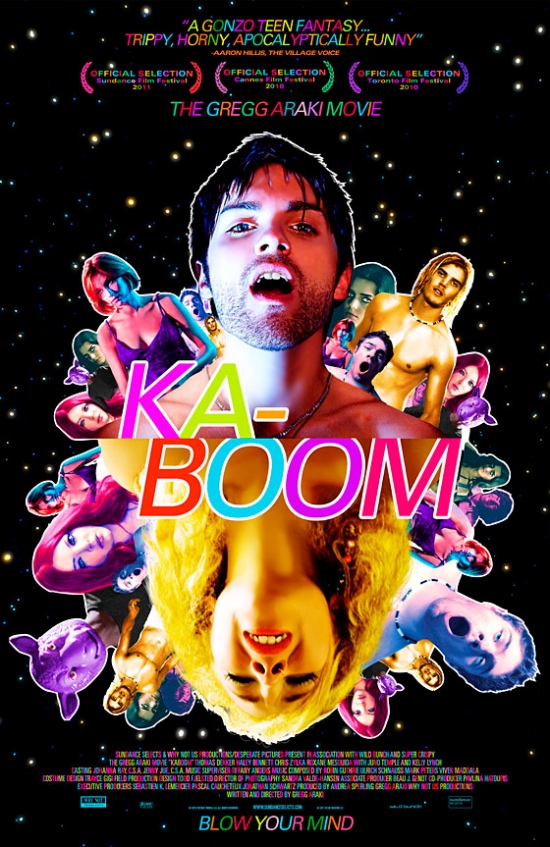 Vulture has premiered the movie poster for Gregg Araki's Kaboom.
Principal photography has begun on Zhang Yimou's first multi-lingual film, 13 Flowers of Nanjing (formerly Nanjing Heroes) starring Christian Bale. [collider]
Universal has released a three minute featurette which focuses on Green Hornet's nemsis Chudnofsky, as played by Christoph Waltz (Inglourious Basterds).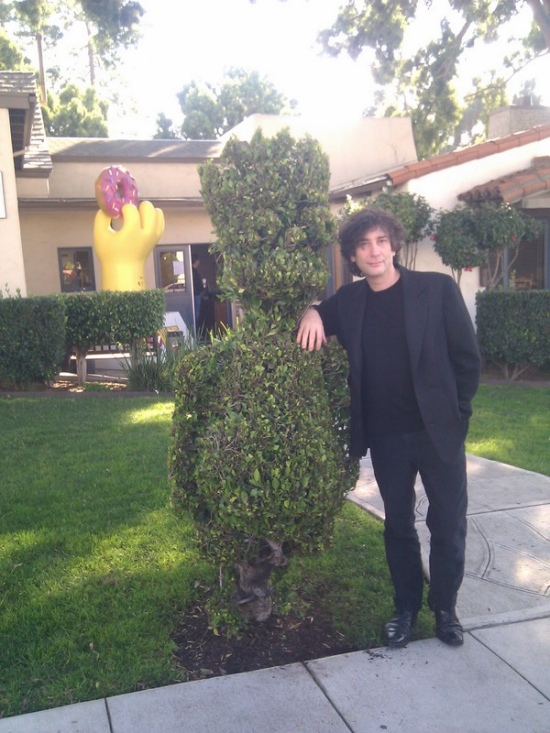 Neil Gaiman (Sandman, Coraline, Stardust) will be appearing on a forthcoming episode of The Simpsons entitled "The Book Job."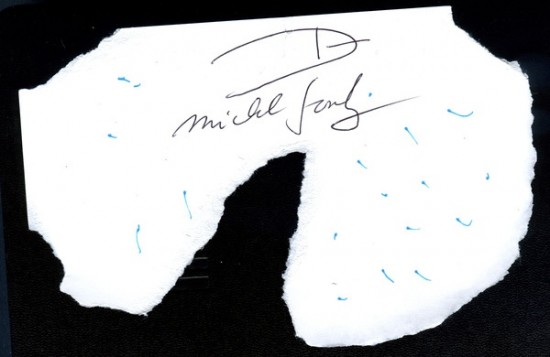 At the Green Hornet junket, director Michel Gondry thought his microphone needed a pair of balls, so he made some for it out of paper. After the interview, journalist Ned Erbar had him sign them.
Khoi Vinh doesn't reccomend the Blu-Ray format:
Aside from the fact that Blu-Ray's high definition picture is so ridiculously gorgeous, the whole format is demonstrably worse than what came before it. [Blu-ray] takes longer to load and menus take longer to navigate than on a stock DVD player. This is doubly frustrating because one of the early promises of the format was that users could pop in a disc and the movie would begin playing immediately, doing away with the interminable trailers that have opened DVDs for the past decade. Not only has that promise been essentially broken, but trailers are an even worse problem on Blu-Ray. Often the way a Blu-Ray disc is formatted, it's harder to fast-forward through a bundle of trailers than it used to be on a DVD.
Snowy trench run from Aaron Dabelow on Vimeo.
After shoveling the snow out of his long walkway, some genius came up with the brilliant idea to recreate the ending of Star Wars. [reddit]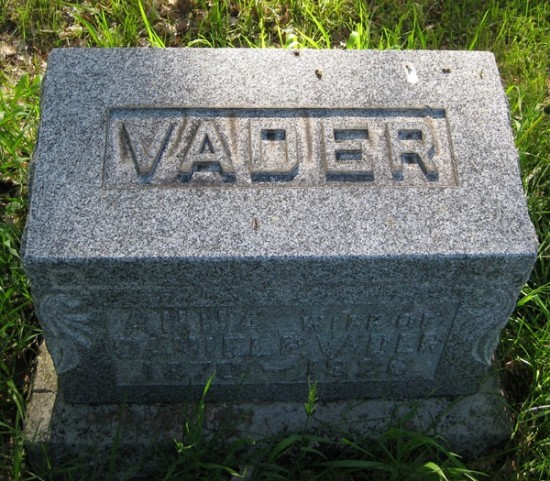 Not Darth Vader's tombstone. [boingboing]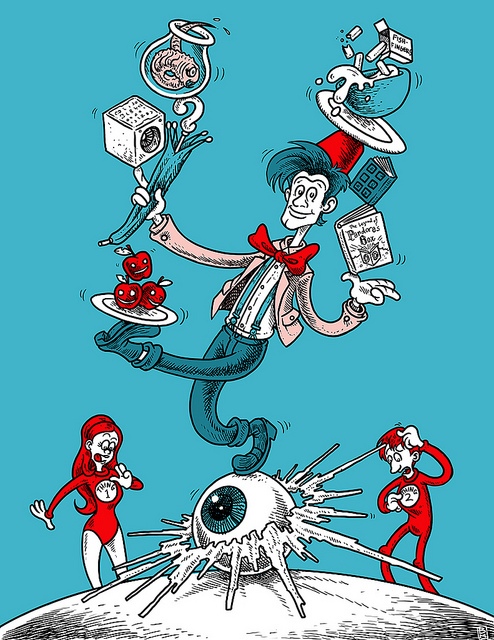 Artist Bill Mudron created this Doctor Who/Dr. Seuss mash-up called "The Cat in the Hat Came Back (eventually)". [geeksofdoom]
Mini-LOL: Watch the video below to see the Cali Swag District kids teach filmmaker Oliver Stone how to Dougie at CES in Las Vegas. [tdw]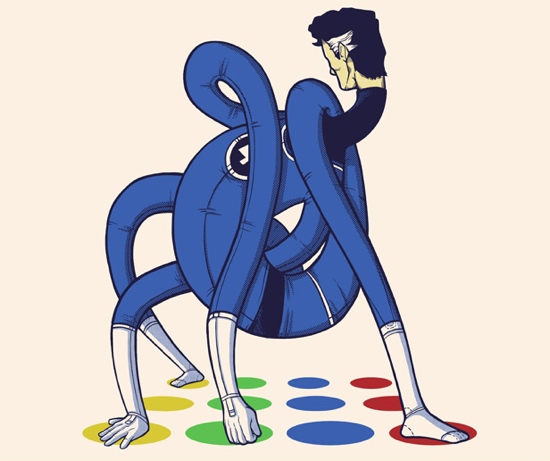 Today's t-shirt of the day on Teefury is a Fantastic Four-parody design titled "Twister Champion". Available for $9 plus shipping, the design will only be available today (January 11th 2011).
[No photo]
Film.it has photos of Tom Cruise in action on the Vancouver set of Mission: Impossible IV – Ghost Protocol. Looks like they have dressed the streets to look like India.
76-year old film historian Alvin H. Marill, author of the showbiz encyclopedia, died on December 25th in New Jersey after suffering a stroke. [variety]
Joanne Ryan performs an acoustic cover of the theme song from Disney's Darkwing Duck. [disneyblog]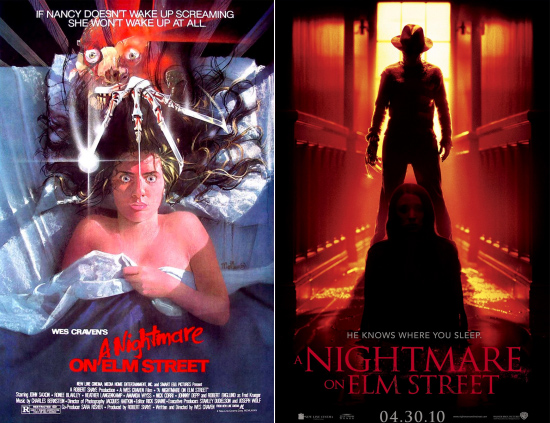 Abduzeedo takes a look at horror movie posters, originals versus remakes.
Rumor has it that Michael Bay has chosen "Burning In The Skies" from Linkin Park's current album A Thousand Suns for the Transformers: Dark of the Moon's soundtrack. [tlamb]