Cool Stuff: Gallery1988's "Is This Thing On" Art Show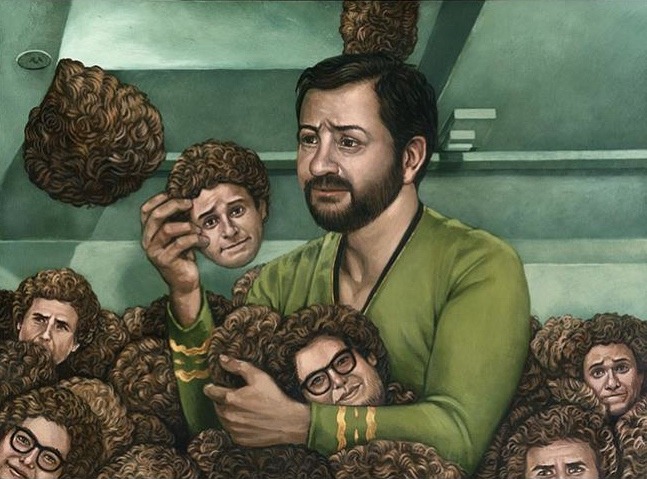 I wasn't planning to write about Gallery1988's first annual "Is This Thing On" art show as it really has little connection to movies or television (or so I thought... the above piece featuring Judd Apatow mashed-up with the infamous Star Trek Tribbles episode is a fine example of this). The show, co-sponsored by FunnyOrDie, features over 100 artists, each creating pieces that are portraits of their favorite funny people, both beloved comics of yesteryear and emerging superstars.
The line up of comedians depicted include: Chris Farley, Will Ferrel, Richard Pryor, Don Rickles, Paul Reubens,Tim & Eric, Nick Kroll, Demetri Martin, Chris Rock, Whitney Cummings, Jon Lovitz, Sam Kinison, Bill Murray, Woody Allen, Colin Quinn, Bill Hicks, Howard Stern, Judd Apatow, Chris Hardwick, Marc Maron, Scott Auckerman, David Spade, Andy Dick, Lenny Bruce, Adam Sandler, Amy Sedaris, Lisa Lampanelli, David Cross, Andy Kaufman, Christopher Guest, Mr. Show, Rob Corddry and Children's Hospital, Gilbert Gottfried, Jeffrey Ross, Bill Cosby, Bobcat Goldthwait, Tracy Morgan, Roseanne, Patton Oswalt, Dave Attell, David Wain and Wet Hot American Summer, Will Forte, John Candy, Lilly Tomlin, Phil Hartman, John Belushi, Mel Brooks and Young Frankenstein, Chevy Chase, Louis CK, Norm MacDonald, Flight of the Conchords, Jim Carrey, Reggie Watts, Steve Martin, Larry David, Rodney Dangerfield, Mitch Hedberg, Ellen DeGenerous, Margaret Cho, Steven Wright, Conan O'Brien, David Letterman, Richard Lewis, George Carlin, UCB Theater LA, Upright Citizen Brigade (TV show), Human Giant, Sasha Baron Cohen, Gallagher, Dana Carvey, Jon Stewart and The Daily Show, Danny McBride, Carrot Top, Greg Giraldo, Donald Glover, Zach Galifiankis, Charlene Yi, Andrew "Dice" Clay, Chris Elliot, Jon Lovitz, Artie Lange, Doug Benson, Redd Foxx, Ben Stiller, Ricky Gervais, Dave Chapelle, Chelsea Handler, Aziz Ansari, Eddie Murphy, SF Sketchfest, Cheech & Chong, Sarah Silverman, Stella, Jerry Seinfeld, Robin Williams, Brian Posehn, Charlie Murphy and Kids In The Hall.
The show is ongoing until January 29th 2011 in the Melrose Gallery 1988 location. Hirt the jump to see some of my favorite pieces of art from the exhibition.
Brandon Schaefer "Woody Allen"
Tom Whalen "Join The Orkan Guard!"
Brandon Schaefer "Bill Murray"
Dave Perillo "I'm From Hollywood"
Glen Brogan "Wet Hot American Summer"
Jeff Boyes "Clark W. Griswold"
Jeff Proctor "Louis"
Ian Glaubinger "John Candyland"
Josh Cooley "Poor Black Child"
Josh Cooley "Poor Black Child"
Kevin Tong "Conan, WITH Strings Attached"
Mike Mitchell "Maraijuna Santa Claus"
Little Friends Of Printmaking "That Got Out Of Hand Fast"
Ryan Jones "Dave"
Sam's Myth "Tim & Eric"
Scott Campbell "Family Portrait"
NC Winters "Wisdom Of The Lama"
Augie Pagan "Lamentations Of A Jersey Prince"
Drake Brodahl "Truth Revealed"
Misha "#donald4spiderman"
Lawrence Yang "Dana, Dana, Dana"
Carlos Ramos "Fart Man"
Michael Steele "How About This One"
Kirk Demarais "Human Giant"
Casey Weldon "O Captain! My Captain."