Coen Brothers: Five Favorite Westerns, Plus Their Joke About Remaking 'Guess Who's Coming To Dinner'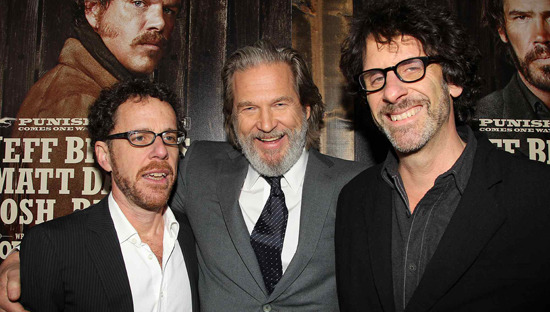 True Grit is poised to cross the $100m mark in the US. While the movie is the Joel and Ethan Coen's widest open to date (1100 more screens than their last greatest domestic success, No Country For Old Men) that doesn't lessen the fact that this is still their biggest domestic gross ever. Celebrate their achievement by checking out the brothers' list of their favorite Westerns, and then puzzle over comments about making a new shot for shot version of Guess Who's Coming to Dinner.
Here are the five fave Westerns, as submitted to EW:
1. Once Upon a Time in the West (1968, PG-13) "Sergio Leone movie. Good hat brims."
2. The Outlaw Josey Wales (1976, PG) "Clint Eastwood movie from the 1970s, when the major studios were, on the evidence here, less uptight."
3. Greaser's Palace (1972, R) "Robert Downey Sr. movie. The Putney Swope of Westerns."
4. Doc (1971, PG). "Frank Perry movie, written by Pete Hamill. We haven't actually seen this one but saw a clip of the first scene, and the opening gag makes us suspect the movie belongs on the list. Stacy Keach fights consumption, dust, and bad men as Doc Holliday. This movie is for you if you like to watch people cough. Stacy was warming up to play one of cinema's great lawmen in the Cheech and Chong movies."
5. The Life and Times of Judge Roy Bean (1972, PG)  "Interestingly, it turns out that most of the best Westerns were made in the '70s, hardly our expectation when we started the list. This one has another great opening scene — again with Stacy Keach, this time as Bad Bob. Admittedly this John Huston movie is, apart from the opening scene, less swinging than the others on the list, but it has Paul Newman with his limpid blue eyes.
So: more than a little tongue in cheek, but I'll take it. I'm not surprised to see Once Upon a Time in the West on the list, not only because it is one of the most striking Westerns, but because the early shot of Fort Smith, Arkansas in the Coen version of True Grit seemed like a deliberate reference to the big crane shot that reveals the town of Flagstone as Claudia Cardinale arrives in Once Upon a Time in the West.
And then, with True Grit striking gold at the box office before the foreign returns even come in, it'll soon be time to guess what the brothers' next film might be. No real word on that yet, but the NYT prints a statement that is...difficult to parse. I figure this is more Coen deadpan humor. I hope it is.
The site says the filmmakers want to tackle Guess Who's Coming to Dinner. Here's a full quote of their printed statements and the paper's extra detail:
So far it's just a "thought experiment," Ethan Coen said, but it would be "a kind of Gus van Sant shot-by-shot remake."
"It could be an exercise in pure style," his brother, Joel, added. "So that's the pitch." A pause. "We haven't found a lot of enthusiasm for that."