Francis Ford Coppola Using 3D For One Part Of Twixt Now And Sunrise'?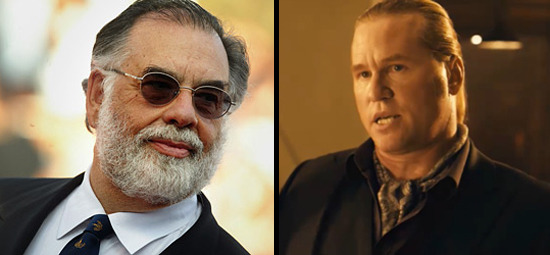 Last year Francis Ford Coppola quietly put a new film into production called 'Twixt Now and Sunrise. It stars Val Kilmer, Ben Chaplin, David Paymer and Tetro's Alden Ehrenreich. The story has elements of gothic horror and romance, and is based on a dream ("more of a nightmare," the director later said) that he worked into a short story. And, if one new report is correct, it will have some 3D, though the entire film will not be 3D.
In a preface to an interview at 99% (via Bleeding Cool) there is this statement:
He recently wrapped his latest picture,  Twixt Now and Sunrise, based on an alcohol-induced dream he had in Turkey. The film even features the latest 3-D technology – but as a brief dramatic segment that serves the story, rather than the typical two-hour, multiplex gimmick.
Note that there isn't a direct quote from Mr. Coppola about using 3D, but he's worked with the format before (Captain EO) and planned to use it when he was developing both Pinocchio and Megalopolis. The latter film would have had a whole act in 3D, with the film indicating when the audience should put their glasses on.
(Note that he's also said that he has no interest in watching a film while wearing glasses, suggesting that 3D will be viable when glasses are not required. Bit of conflict there.)
Now, how this will be more than a gimmick remains to be seen, especially if there's just a brief 3D bit in the film. That will require audiences to put glasses on and remove them, which is pretty intrusive, and from my perspective a lot more gimmicky than doing the whole film in 3D. But I'm not sure how you can fail to be at least a little intrigued by the idea of a master director using a new technology even if, like me, you've got little interest in 3D.