Eminem May Star In Crime Thriller 'Random Acts Of Violence'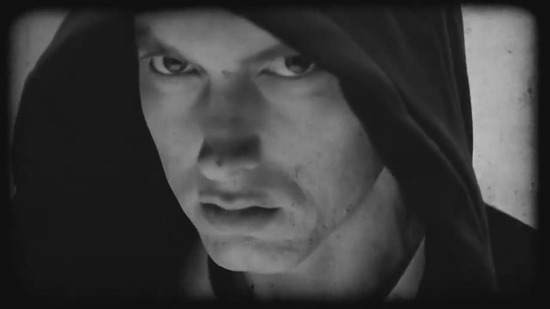 Eminem, fresh from having his album Recovery certified as the biggest-selling record of 2010, is making another move towards getting back on the big screen. Last year he was in talks for Fernando Meirelles' film 360, about which we otherwise haven't heard much in a while, and he was also attached to the Kurt Sutter pitch Southpaw, which was picked up by DreamWorks.
And now Marshall Mathers is almost set to appear in Random Acts of Violence, a film set up  at Fox. The trivia hook isn't just Eminem's appearance, but that the script was originally set up as a knock-off of Grand Theft Auto. But it has taken a different turn.
Vulture says that Random Acts of Violence came out of an attempt to make a GTA film at Fox. In time-honored fashion, when the studio couldn't get the rights to the game, it just commissioned a script that was a lot like Grand Theft Auto.
The result was a first draft that has "an ex-con named Emile trying to save his failing repo business and pay for his uncle's botched coke deal by stealing a string of sports cars."
That script wasn't great, so the studio hired David Von Ancken, a director on Californication and the director of Seraphim Falls. He reportedly ditched a lot of the more game-derived elements (less car stealing, in other words) and brought it closer to something like 8 Mile. Which is where Eminem comes in.
So now it's a totally different script with a crime-based tone that sounds more like a knock-off of The Departed than of GTA: "An ex-con smarter than his past is fresh out of prison and trying to stay legit — but his efforts are complicated by his old gang, who want him back on the job. So, too, does the FBI, which hopes he'll wear a wire and bring down the crime syndicate. The ex-con, meanwhile, tries to play both sides against each other long enough to exact revenge against those — on both sides of the law — who sent him to prison in the first place."
There is more script work to be done, likely by another writer, and then Von Ancken is expected to come back to direct the film after working on more episodes of Californication.