Ricky Gervais Will Voice Mole In WETA's 'The Wind In The Willows'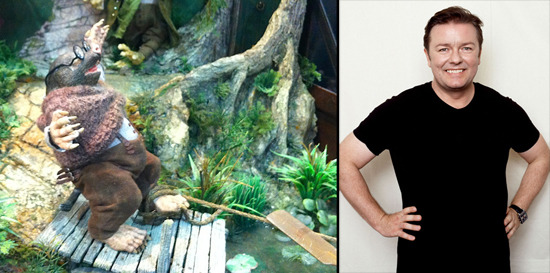 Last year we reported a few times on a new version of The Wind in the Willows, which is being produced by RG Entertainment with Ray Griggs (Super Capers) directing and WETA and Richard Taylor working on the effects for the live-action/animatronic film. Now the movie has its first cast member, as Ricky Gervais will voice Mole.
The film was originally set to shoot last fall, and debuted a teaser trailer at Comic Con. Variety now says only that the film will shoot 'this year,' and that the rest of the cast will be announced shortly. Given that the film was announced as relying on animatronics to a good degree, the Comic Con teaser was more CGI-reliant than I would have hoped, but the maquettes and designs we saw at the show were more or less on target.
Previously:
The story follows four anthropomorphized characters in a classic pastoral English countryside, an yes, it has been adapted to the screen many times before. But this time around they are using WETA to provide a suite of animatronic effects to bring the animal characters to life.
WETA's Richard Taylor is overseeing the effects. Taylor should be familiar to many as the man behind a lot of the effects in The Lord of the Rings, as well as many other films. Directed by Ray Griggs and written by Bill Marsili (Lightspeed), the $30m production is scheduled to shoot this fall.
Marsili's script supposedly keeps some elements of the original story "while changing the emphasis on others to provide a more streamlined conflict." The animals join forces " to save their land from a sinister plot that threatens to destroy the uneasy truce between the peaceful animals of the Willows and what remains of Mankind. Story begins when Mole ventures out of his lonely home for the first time and finds a world of new friendships, wonders and adventure waiting for him in the land of the Willows."