Joe Carnahan's 'The Grey,' Starring Liam Neeson, Is A Go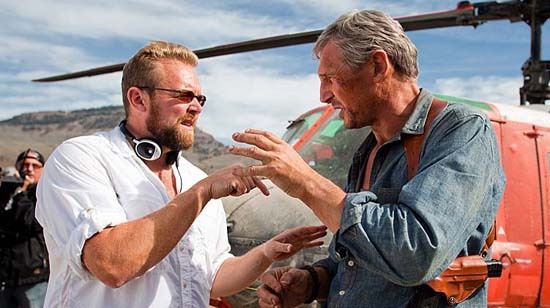 Movie blogs like this one run so many stories about gossip, rumor and early attachments, it's nice to finally write one about that all important green light. A "green light" is the term for when financiers and filmmakers agree on a budget, script, cast and finally give the go-ahead to begin production. And in the realm of movies we report on, it doesn't always happen.
We're happy to report that though it took about a year, and we reported on it in the casting phase, The Grey, co-written and directed by Joe Carnahan, starring Liam Neeson, Dallas Roberts, James Badge Dale, Dermot Mulroney, Frank Grillo, Nonso Anozie, and Joe Anderson, has just gotten that all important green light. It's about a group of oil-rig workers who crash and find themselves stranded on the Alaskan tundra in the presence of a group of deadly wolves. Sounds kind of like Armageddon meets Frozen. Read more about it after the jump.
In the Deadline story, Carnahan said he was happy to get back to small budget filmmaking after The A-Team.
I haven't had a situation like this since Narc, where there's no distributor, but you get to make the movie you want to, staying as light on your feet as you can.
He'll shoot much of the film in Vancouver and northern British Columbia where things get pretty damn cold.
It gets to be 30 below, and when we went out the other day, I took off my hat to see how long I could last, and my skin was burning with frostbite in a little over a minute. In a way, it's great, because it beats the shit out of the cast and that suits the storyline.
And though the story does sound like it borrows from a whole bunch of other movies – The Thing, Alive and others for example – Carnahan said what really separates The Grey from other movies are the wolves.
The wolves have a territorial range of 300 miles, and they will run you out if you cross that. If you're within 30 miles of their den as is the case here, they will try to kill you. It's simple arithmetic, but it creates an opportunity for one of those man vs. nature movies I love like Deliverance and Touching The Void.
I'm a huge fan of Carnahan's style, even when the substance isn't here (AHEM. Smokin' Aces.). So the fact that we're going to see his hyper-kinetic visuals in such a monochromatic landscape is very exciting.
What do you think about The Grey?