Justin Timberlake Double Feature: New Images For 'Bad Teacher' And 'Friends With Benefits'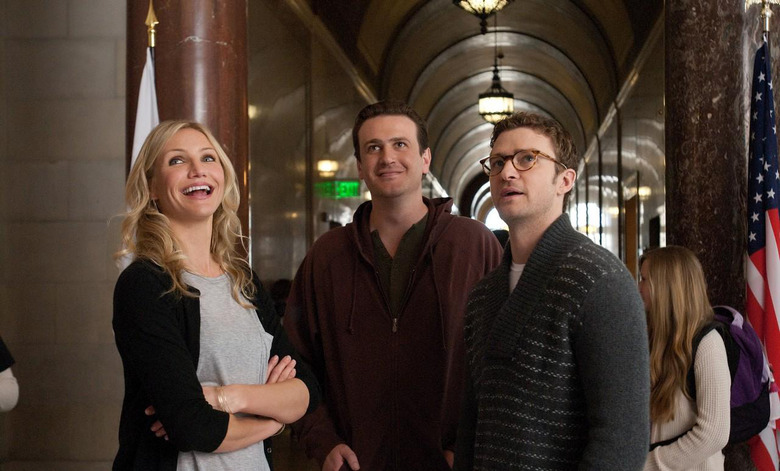 Justin Timberlake is really making a play at a dedicated acting career, lack of award recognition for his work in The Social Network be damned. He was great in that film, carrying forward the good work he'd done in Alpha Dog, Black Snake Moan, and, yeah, Southland Tales. He's currently shooting Now for director Andrew Niccol, but before that hits we'll see Timberlake in two comedies that are already in the can: Friends With Benefits and Bad Teacher.
First up, here's the new stuff. The header image is the first look at Bad Teacher, which comes from director Jake Kasdan and also stars Cameron Diaz, Lucy Punch, John Michael Higgins, and Jason Segel.
Here's the official synopsis:
Some teachers just don't give an F. For example, there's Elizabeth (Cameron Diaz).  She's foul-mouthed, ruthless, and inappropriate.  She drinks, she gets high, and she can't wait to marry her meal ticket and get out of her bogus day job.  When she's dumped by her fiancé, she sets her plan in motion to win over a rich, handsome substitute (Justin Timberlake) – competing for his affections with an overly energetic colleague, Amy (Lucy Punch).  When Elizabeth also finds herself fighting off the advances of a sarcastic, irreverent gym teacher (Jason Segel), the consequences of her wild and outrageous schemes give her students, her coworkers, and even herself an education like no other.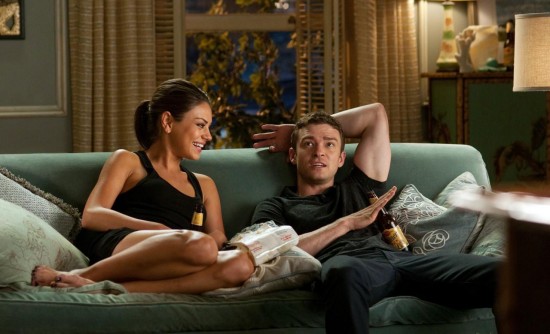 We've seen a red-band trailer for Friends With Benefits, which opens July 22. That's a new image above, and here's the synopsis. Since the film comes from Easy A director Will Gluck I'm hoping for more than a run of the mill sex comedy. It co-stars Emma Stone, Woody Harrelson, Jenna Elfman, Patricia Clarkson, Richard Jenkins, and Andy Samberg.
A young female headhunter (Mila Kunis) in New York convinces a potential recruit (Justin Timberlake) to accept a job in the Big Apple. Despite an attraction to each other, both realize they¹re everything they¹ve been running from in a relationship and decide to see what happens if they leave emotion out of it and keep it strictly physical.