Will Ferrell And John C. Reilly Working On 'Step Brothers' Rap Album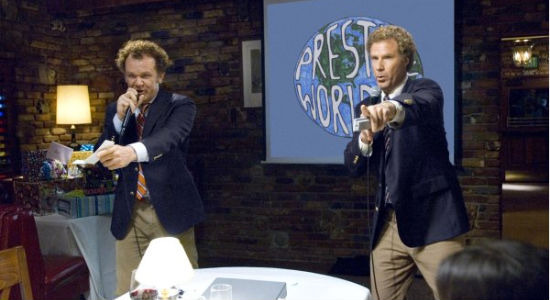 When Will Ferrell and John C. Reilly's characters in the 2008 Adam McKay comedy Step Brothers took the stage to perform the rap song "Boats and Hoes," no one could have predicted where it would take them. In the movie, it helps spawn a business for their group Prestige Worldwide and now, in real life, it might do the same. McKay revealed on his Twitter page that the duo were working on a real life rap album.
Are we currently working on a Step Bros rap album? Yup.
Then, in case anyone thought the Anchorman and Other Guys director was joking, he tweeted again with an open invitation to rapper/actor Mos Def.
I wasn't kidding about Step Bros rap album. And we just found out we have a crazy big time producer. Mos Def, you up for a guest flow?
See the song that inspired this album, Ferrell and Reilly's latest musical opus and read more after the jump.
First, here's the "Boats and Hoes" music video that surely sums up the tone for the upcoming album and could possibly be the first single.
And for anyone who might think that was the BFF's only musical collaboration, maybe they missed this recent Christmas video.
Ferrell and Reilly first teamed up as the team of Shake and Bake in another McKay film, Talladega Nights: The Ballad of Ricky Bobby. Besides Step Brothers and their numerous online video team ups, they've also both appeared on Tim and Eric Awesome Show, Great Job, though never together.
It's obvious that both Ferrell and Reilly, along with the help of McKay, can write and create funny stuff, plus their chemistry is totally undeniable. All you have to do is watch anytime the two tall comedians are on screen together to see that. But will that chemistry come across in MP3 form? We'll have to wait and see.
Source: The Playlist