George Clooney Attached To Star In 'The Monster Of Florence'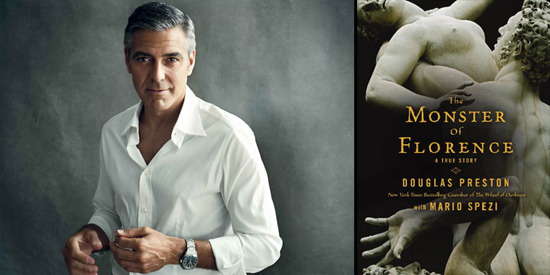 You might see a lot of George Clooney this year. (In 2010 he was in only The American.) He's set to appear in a small role in Gravity, is directing and will appear in The Ides of March, and has already shot Alexander Payne's film The Descendants. He's also producing an Enron film and might end the year gearing up for Steven Soderbergh's The Man From U.N.C.L.E.
And now he's attached to The Monster of Florence, an adaptation of the non-fiction best-seller of the same name, written by two men who picked up the stone-cold trail of a serial killer and solved the case.
Deadline says that Valkyrie co-writers Christopher McQuarrie and Nathan Alexander will write based on Douglas Preston and Mario Spezi's book. Mr. Clooney is attached to play Douglas Preston, who with Mr. Spezi uncovered the identity of the killer who savagely killed seven couples outside Florence between 1968 and 1985. Tom Cruise was developing a film based on the book two years ago, but that effort didn't bear fruit.
(This was no simple task: the case had been given up, some witnesses were dead, evidence was gone and local authorities imprisoned Spezi and interrogated Preston. The case was a big story in Italy, being called a parallel murder set to the Jack the Ripper and Zodiac killings, and Thomas Harris incorporated elements of the story into Hannibal.)
So who directs? This was put together just before Christmas, and George Clooney's writing and producing partner Grant Heslov is on board to produce along with Dan Jinks and Bruce Cohen. Could this end up being Grant Heslov's second directorial feature? (His first being The Men Who Stare at Goats, also with Clooney.)