Razzie Shortlist Reveals New Category: 'Worst Eye-Gouging Misuse Of 3D'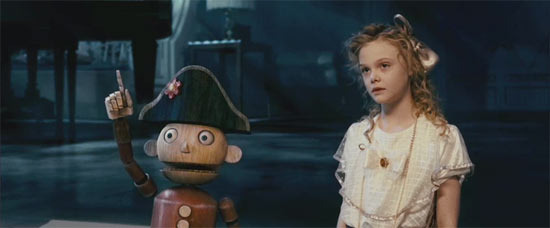 As the movie industry evolves, so to do the Razzies. The anti-Oscars, which infamously recognize the worst movies of the year, have announced their short list of eligible films which includes a brand new category: Worst Eye-Gouging Misuse of 3D. What films are eligible for that award as well as Worst Film of the Year and more? Find out after the jump. Actual nominations will be announced January 24, the day before Oscar nominations.
As if you need another piece of proof that the Golden Globes are a joke, one of their Best Picture nominees leads the pack of eligibility. Burlesque is eligible for worst screenplay, worst director, worst supporting actor for Cam Gigandet, worst supporting actress for both Kristen Bell and Cher and worst actress for Christina Aguilera.
Oddly enough, though, Burlesque is NOT eligible for Worst Picture. Those dubious distinctions go to The Bounty Hunter  Clash of the Titans, The Expendables, Grown Ups, Jonah Hex, Killers, The Last Airbender, Little Fockers, Sex and the City 2, The Twilight Saga: Eclipse, Vampires Suck and Yogi Bear.
In the Worst Eye-Gouging Misuse of 3D category, the eligible nominees include, but are apparently not limited too, Piranha 3D, The Nutcracker in 3D and Resident Evil: Afterlife.
Among the eligible actors and actresses are Jessica Alba for her whole year: The Killer Inside Me, Little Fockers, Machete and Valentine's Day as well as Emily Blunt for Gullivers Travels and The Wolfman. George Lopez had quite the year too with Marmaduke, The Spy Next Door and Valentine's Day while Mickey Rourke is also eligible for The Expendables and Iron Man 2.
And in another Golden Globe faux-pas, Angelina Jolie is eligible for Worst Actress for The Tourist even though she got a Best Actress nod from the Globes.
It's a sad day when the Razzies are more accurate as an award show than the nationally televised Golden Globes.
Also, we realize this is just a sampling of the eligible films and actors. As far as we can tell, all the news outlets are only reporting a portion of the eligible names instead of the full list. When we find the full list, we'll post it here. Clash of the Titans and The Last Airbender have to be eligible for the 3D award, no?
Source: Los Angeles Times