'Sucker Punch' Concept Sketches By Alex Pardee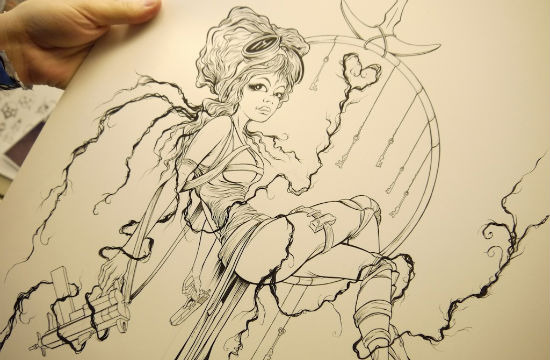 Come this March, there's going to be a lot of Alex Pardee on screen during Zack Snyder's Sucker Punch. The artist not only contributed artwork for the genre bending trip through a mental institution, but his drawings are the basis for much of the marketing campaign. We've already seen the finished posters that Pardee did of all the characters from the film and now we've got images of his original, hand-drawn sketches of those posters. Check them out, and find out how you can see Pardee's work up close and personal in Los Angeles this month, after the break.
Here are the images, which are a /Film Exclusive.
As you can see, Pardee didn't do these on a computer like so many artists do now days. He hand drew these suckers. And Snyder must have liked them so much, he basically just printed them as is and handed them out at Comic-Con.
We've ran articles on Pardee's art before and now seemed like the right time to do it again. Sucker Punch is out soon and Pardee has a show opening in Los Angeles on January 8 at the Corey Helford Gallery in Culver City called Vertigo: A Decade of Hunting Nightmares. Click here for all the info and check out the flyer below.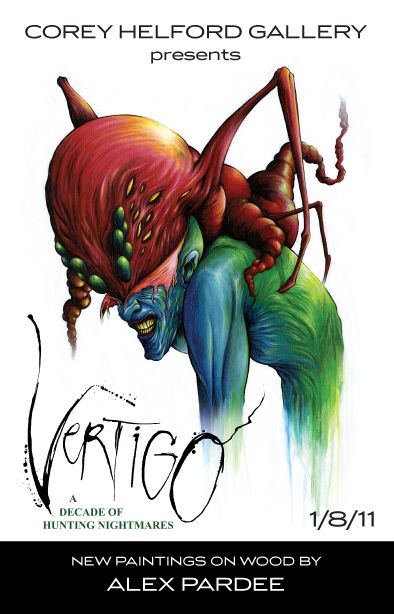 Here's Pardee's bio.
Born in 1976, Alex Pardee is an American artist, writer and apparel designer from California. A pioneer in trans-media artistry, Pardee brings his unique style and aesthetic to many platforms, including numerous director credits for music, animation, and fi lm projects. He has collaborated with bands The Used, In Flames and hip-hop artist Cage, and on TV and fi lm projects, including Chadam to art direct marketing campaigns. Pardee is also the co-founder of successful creative collective ZEROFRIENDS, which through a series of national pop-up stores provides him and other notable artists a marketable retail extension of their artwork and storytelling. Pardee has exhibited in galleries worldwide and currently resides in the San Francisco Bay Area. For more information about the artist, please visit www.eyesuckink.com.