The First Video From 'Captain America: The First Avenger'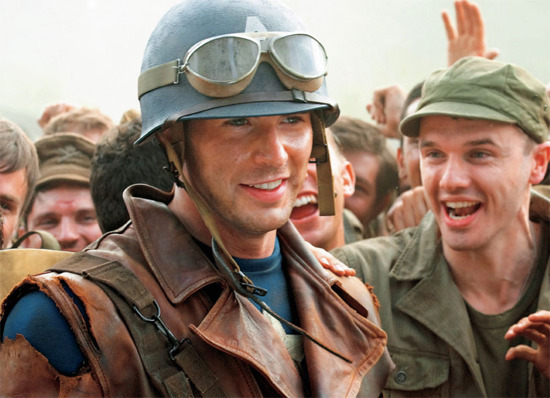 This week, Entertainment Tonight is probably going to have one of their exclusive first looks at this summer's highly anticipated Marvel superhero movie, Captain America: The First Avenger. How do we know? Well, there's a six second video teasing the upcoming segment embedded after the jump. Short as it may be, that doesn't change the fact that it's the first time we've seen any moving images from the movie.
Thanks to Comic Book Movie for the video.
And like that, POOF, it's gone.
Captain America: The First Avenger opens everywhere on July 22. Starring Chris Evans, Hugo Weaving, Stanley Tucci and Hayley Atwell, the Joe Johnston directed film will be an origin story of sorts as Steve Rogers becomes Captain America and leads a group of elite soldiers called the Howling Commando against the Red Skull, Hitler's head of weaponry.
Not sure what, if anything, we can take from the above video but...there it is, your first look at Captain America: The First Avenger. When the full segment comes online, we'll be sure to have it for you here.
Still, that this is our first look at the film says something. Because we have yet to see a trailer for Captain America, it sort of feels like the film is flying under the 2011 radar. Everyone is talking about Transformers, Thor, Green Lantern, but few are talking about Captain America. Of course that will change once we have a trailer, but out of all the superhero movies coming out this year, I have a strong feeling that Captain America is the one we're going to be talking about the most next year. It's the most straight-forward story with the most likable main character and it's set in a time period where there is no ambiguity about who is good and who is evil. Plus, Captain America is the leader of The Avengers so his movie has to blow our socks off to get us excited for that movie in 2012.
Are you really stoked for Captain America: The First Avenger or do you feel like you need to see a trailer?