Cool 'Pirates Of The Caribbean: On Stranger Tides' Easter Egg Revealed
The Disney Channel has released a short "Movie Surfers" behind the scenes set video for Pirates of the Caribbean: On Stranger Tides. The video is essentially an interview with star Johnny Depp, and doesn't reveal many new details. However if you look closely you might notice one of the easter eggs in the film which pays homage to the original Disneyland theme park ride. Can you spot it?
Pirates of the Caribbean: On Stranger Tides "Dinsey Channel Movie Surfers" Featurette
As for the easter egg which pays homage to Walt Disney's Pirates of the Caribbean theme park ride...
At one point the interviewer is in the set of the captain's cabin of Blackbeard's ship, and in the background we see a skeleton in a bed, with a set of skull and crossbones hanging above: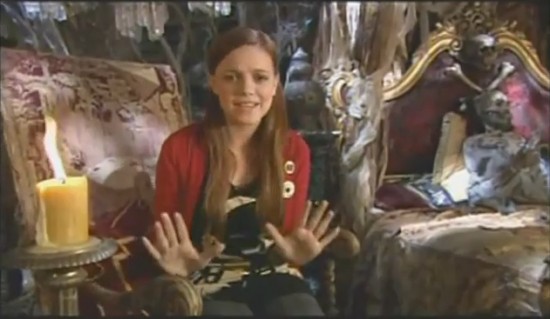 And here is one of the scenes from the original Disneyland Pirates of the Caribbean ride: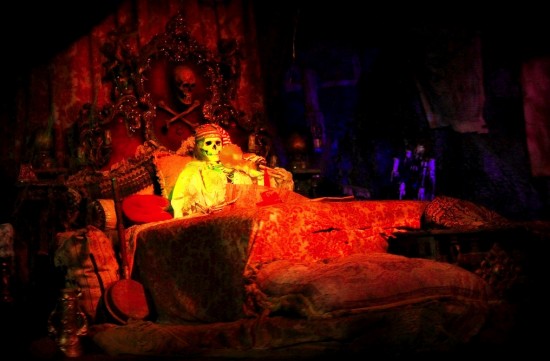 And here is a neat bit of trivia about this portion of the original Disneyland ride. While the attraction features many skulls and skeletons throughout, none of them are from real human bodies. None of them except for one — the one hanging above the bed.
The grotto was originally furnished with real human skeletons on loan from the UCLA medical center. When the ride was first built, realistic skeleton replicas were hard to come by (and the plastic reproductions just looked fake). According to the legend, the real human skeleton bodies and heads were later returned. All of them except one, of course! The remaining human skull can be found above the Captain's bed. It was supossedly given to Walt Disney by a friend, and has remained part of the ride throughout the years.