Brad Pitt Confirmed For Andrew Dominik's 'Cogan's Trade,' Which Could Shoot In New Orleans In March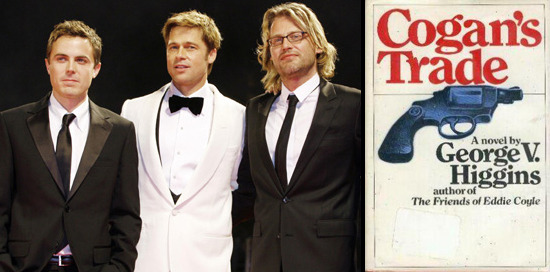 We heard not long ago that director Andrew Dominik might be doing another film with Casey Affleck and Brad Pitt, aka the leads from his last film, The Assassination of Jesse James by the Coward Robert Ford. In November Brad Pitt was said to be negotiating for a role in Cogan's Trade, which will adapt the George V. Higgins novel about Jackie Cogan, "a professional enforcer who investigates a heist that takes place during a high stakes poker game under protection of the mob." Now a report from Louisiana says that the actor is set for the film, which will film in the bayou state beginning in March.
Scene Louisina says that the film is set to film entirely in the New Orleans area. When Casey Affleck initially talked about this film as a possibility, he mentioned that it was a Boston-set story, but that the action would be moved to a different area. Looks like New Orleans is it.
More interesting, the article pushes quite a few other cast names, some of whom were previously rumored: Josh Brolin, Javier Bardem, Bill Murray, Mark Ruffalo, Sam Rockwell and Zoe Saldana. (Sam Rockwell also appeared in Jesse James.) These are all still rumors, but Josh Brolin and Zoe Saldana are new to the list. Bill Murray's name is also a new addition, and a very interesting one.
When I last reported on this, I joked "So... something a bit like Ocean's Four, given the size of the cast we're seeing so far?" If even half those names are true, then perhaps that was closer to the truth than I ever would have expected. It probably goes without saying that I'm quite excited for this one — the combination of the key Jesse James players would be enough to earn Cogan's Trade a slot high on the anticipated list, but if some of the other rumored cast signs on too, it'll instantly score even higher.
Thanks to Casey for the heads-up.