Cool Stuff: Tyler Stout's 'Star Wars' Trilogy Posters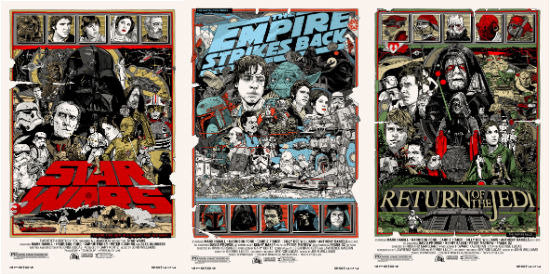 Mondo's Star Wars poster series has come to an end with a finale fitting of George Lucas's epic trilogy. Tyler Stout, the man whose work put movie prints and Mondo on the map, has done a series of six posters immortalizing the original trilogy in a way that only Stout can: big, bold and boisterous. UGO exclusively revealed his posters for Star Wars, The Empire Strikes Back and Return of the Jedi, plus variants of all three (including a Revenge of the Jedi!), which will be on sale New Year's Eve at a random time. Check out the posters and more after the jump.
Thanks to UGO who got the exclusive reveal of these posters. Head over there to read a long, fascinating interview with Mondo main man Justin Ishmael as he discusses the Stout Star Wars posters as well as Stout's posters in general. It's a very cool peak into how the whole series went as Ishmael picks his favorite Stout's over the years.
Here are the six Stout Star Wars prints. Click on each to see a larger version
For many of us, Tyler Stout's work is what got us into poster collecting and when Mondo announced that they'd be doing a series of Star Wars posters, the only question I had was if Tyler Stout was going to be involved. I'd been pondering what singular event in the series Stout would tackle but it wasn't until the release of the Olly Moss posters last week that I even thought we might see actual movie posters and not just renderings of single scenes.
When I woke up this morning and finally saw the posters, they almost brought a tear to my eye. Many might feel Stout's posters are too busy but I've always see his posters as overly enthusiastic, which is something I can relate to. It's as if he wasn't sure what one thing to concentrate on for a poster, so he just goes ahead and puts everything in there. They're posters for fans by a huge fan. Plus, Stout puts so much detail into each and every image that you can look at his posters almost every day and find something new.
Currently, my apartment has a wall of Tyler Stout featuring ten posters my roommate and I have acquired over the years. So, I know how I'll be spending New Year's Eve: Nervously refreshing the Mondo Twitter page hoping I get a set of these. The cool thing, though, is that these posters – and even the variants – have a ridiculously big print run: 850 for the regular and 275 for the variants. It's the largest single run Mondo has ever done. The regular ones are $50 each and the variants are $100.
So what do you think of these posters? And now that the whole Star Wars series is over, how do you think Mondo did?