'Golden Slumber' Trailer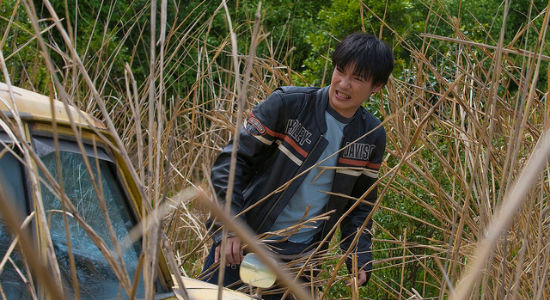 When most people hear Beatles songs, it makes them feel warm and nostalgic. Well, imagine that feeling wrapped in a whodunit conspiracy film like The Fugitive and you've got Golden Slumber, one of the biggest hits of Fantastic Fest 2010. The Japanese film directed by Yoshihiro Nakamura had its world premiere at the Los Angeles Film Festival last summer and still doesn't have a U.S. distributor. Still, you've got to keep this one on your radar because it's everything you go to the movies for. Watch the trailer and read more about the movie after the jump.
Thanks to FirstShowing for reminding us of this trailer, which we hadn't posted yet, but has been around for a few months.
When Golden Slumber played Fantastic Fest, the rumor was that because the Beatles song Golden Slumbers was used so prominently, it was never going to get U.S. distribution because it would be too expensive to clear the song. (Beatles songs are notoriously difficult and expensive to clear even for big budget films, which is why you so rarely hear originals on the big screen). That would really be a shame because the film has huge crossover potential. Here's what I had to say about the film after the first screening at Fantastic Fest in Austin, when I was writing for Collider.
If The Fugitive was given a serious shot of nostalgia, it would be Golden Slumber. The latest film from director Yoshihiro Nakamura (who also did Fest favorite Fish Story) tells the story of a pseudo celebrity who is framed for killing the Prime Minister of Japan. When confronted with the charge, he goes on the run and ends up seeking the help of several of his college friends. At almost two and a half hours, Golden Slumber feels a bit long at times. But as the film keeps moving along, and everything keeps paying off, it's obvious how important every little detail really is. The screenplay is only topped by the direction and the movie constantly makes you smile while sitting on the edge of your seat. Plus, the whole thing is framed around the song "Golden Slumbers" by The Beatles. So take how Beatles songs make you feel, put it into the plot of a giant conspiracy movie, and you have an idea of how good Golden Slumber really is.
And here's the official description thanks to the Fantastic Fest website.
[In 2010], Yoshihiro Nakamura's FISH STORY saved the world from certain annihilation and became the word-of-mouth hit of the NYAFF. This year, Nakamura's back with another ode to the human connection, GOLDEN SLUMBER, a brain-melting thriller send-up that's two parts THE BIG CHILL, three parts BOURNE IDENTITY and a million parts awesome.
In sunny Sendai, happy-go-lucky Aoyagi reunites with an old university buddy, only to discover he's become a patsy for a labyrinthine government conspiracy to assassinate the Prime Minister. As Aoyagi runs for his life, his old classmates are ruthlessly hunted down by a government hatchet man (Teruyuki Kagawa, SUKIYAKI WESTERN DJANGO). All hope seems lost until Aoyagi meets "Kill-O," the friendly neighborhood serial killer, and when old-flame-with-a-kid Haruko enters the fray, stubbornly unwilling to believe the worst of her ex, it looks like the titular Beatles song just might be right – there really is a way to get back home.
Everything in GOLDEN SLUMBER is deliberate, from the serpentine plotting to the pitch-perfect performances, and even the background actors hold vital clues. Masato Sakai (CLIMBER'S HIGH) makes Aoyagi the ultimate everyman, and his laugh-so-I-don't-scream disbelief as his world begins to collapse is devastatingly realistic. As Haruko, Yuko Takeuchi (DOG IN A SIDECAR) gradually evolves from a silly young girl to a married woman with one toe still dipped in the past. The story's Hitchcock-isms are ultimately a vehicle for Nakamura's personal cinematic earworms: the shattering immediacy of the commonplace, pop culture as a medium for communication and salvation, and a twisty, onionskin narrative that reminds us that friends are everywhere, in the most unlikely of places, and everyone, everything has a purpose. In GOLDEN SLUMBER, Aoyagi doesn't just uncover a conspiracy, he unlocks the meaning of life, as a bottle rocket starburst signals the birth of the ultimate social network
If you have an all region DVD player, you can pony up for a release of this, as it has been out for a year in Japan, though be sure to double check if the disc has English subtitles. And either way, be sure to keep this on your radar or Netflix queue so you can see it when you have the chance.