This Week In DVD & Blu-Ray: The American, Resident Evil: Afterlife, Archer (Season 1)
We may receive a commission on purchases made from links.
This Week in DVD & Blu-ray is a column that compiles all the latest info regarding new DVD and Blu-ray releases, sales, and exclusive deals from stores including Target, Best Buy and Fry's.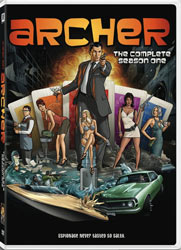 ARCHER (SEASON 1)
Much like its FX counterpart, It's Always Sunny in Philadelphia, Archer is a show about horrible people doing horrible things. Premised as a '60s spy thriller spoof, the series adopts the same irreverent brand of humor we've come to expect from creator Adam Reed (Frisky Dingo, Sealab 2021), thrusting our deviant band of self-obsessed special agents through the ringer as they spout fiercely clever/cleverly stupid insults at one another and zanily stumble through mission after mission—with varying degrees of blood loss. It's everything loyal fans like myself came to love about Frisky Dingo, just with a tad bit more (very welcome) narrative structure. If you aren't watching it, you should be.
Available on Blu-ray? No.Notable Extras: Original Unaired Pilot, Unaired Network Promo, The Making Of Archer (3D, Animation, Art Direction, Backgrounds, Illustration, Storyboards), deleted scenes, and pilot episodes for "Louie" and "The League".
BEST DVD PRICE
Target
Best Buy
Fry's
N/A
$22.99
N/A
Amazon – $19.99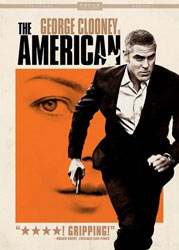 THE AMERICAN
Understandable for a movie so shamelessly marketed as a thriller, The American has drawn criticism amongst audiences (and even some critics) for being glacially paced and completely lacking in plot. I won't try to deny those claims. To a large extent they're true, and worse still, the troubled hitman routine has been recycled so heavily recently that there's hardly any remaining novelty to the premise, no matter the amount of existential angst tagged on to it. Despite these reservations, The American completely worked for me. From its opening frame onward, it had me spellbound. Everything about it is so carefully and elegantly crafted, from the gorgeous cinematography to the quietly captivating performances, that I had absolutely no qualms about spending an hour and a half watching a solemn George Clooney attempt to find a little solace in his cold, empty life. The film may not be as artfully profound of an introspective character piece as it seems to think it is—there is nothing to this character that we haven't seen done before, and done better—but its European scenery is beautiful and its atmosphere is intoxicating. For all its "pretentious, self-indulgent art film" trappings, there's a grace to this picture that we don't see nearly enough of in American cinema.
Available on Blu-ray? Yes.Notable Extras: DVD & Blu-ray – An audio commentary with director Anton Corbijn, a Journey to Redemption: The Making of The American featurette, and deleted scenes.
BEST DVD PRICE
Target
Best Buy
Fry's
N/A
$14.99
$14.99
Amazon – $14.99
BEST BLU-RAY PRICE
Target
Best Buy
Fry's
N/A
$26.99
$26.99
Amazon – $23.99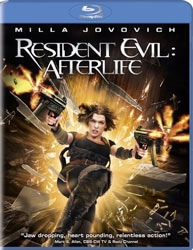 RESIDENT EVIL: AFTERLIFE
Between Resident Evil, Resident Evil: Apocalypse and Resident Evil: Extinction, I didn't need any convincing to not see Resident Evil: Afterlife, but writer/director Paul W.S. Anderson provided some added comfort in that decision when he decided to premiere scenes from the film (in 3D!!!) at Comic-Con. In one scene, a costumed man with a Styrofoam hammer stomps around a Styrofoam set while characters flail around beads of water in slow motion. Needless to say, the scenes were laughable, and in effect, everyone laughed at them. Prior to the aforementioned sequence, Milla Jovovich decided to pander to the audience a little by announcing, "Oh man I can't wait for you guys to see this, it's so sick!" Following the scene—and lack of applause—she corrected herself, explaining, "That actually wasn't the scene I was talking about. But wait until you see it, guys, it's so sick!" Hmm. I think I'll take your word for it, Milla.
Available on Blu-ray? Yes.Notable Extras: DVD – A filmmaker commentary, and 2 featurettes ("Band of Survivors: Casting Afterlife", "Fighting Back: The Action of Afterlife"). Blu-ray – Includes everything on the DVD, as well as deleted and extended scenes, additional featurettes ("Back Under the Umbrella: Directing Afterlife", "Undead Dimension: Resident Evil in 3D", "Vision of the Apocalypse: The Design of Afterlife", "New Blood: The Undead of Afterlife", "Pwning the Undead: Gamers of the Afterlife"), and outtakes.
DVD PRICE
Amazon – $16.99
BLU-RAY PRICE
Amazon – $19.99
Other noteworthy DVD (and Blu-ray) releases this week...
Twelve [DVD / Blu-ray] – And Soon the Darkness [DVD / Blu-ray] – United States of Tara (Season 2)

NOTES: Some deals may vary by store. Some deals may be in-store only. All deals are for DVDs unless otherwise noted.

$9.99 – Entourage (Season 1 – 6), Eastbound & Down (Season 1), Sex and the City (Season 1 – 6), Weeds (Season 3 – 5), It's Always Sunny in Philadelphia (Season 5), Parenthood (Season 1), Knight and Day, The A-Team$14.99 – Mad Men (Season 1 – 3), How I Met Your Mother (Season 3 – 5), Family Guy (Vol. 8), Psych (Season 3 – 4), The Tudors (Season 3 – 4), The Office (Season 2 – 5), House (Season 5 – 6), Castle (Season 1 – 2), The Sorcerer's Apprentice (DVD + Blu-ray), Prince of Persia (Blu-ray)$19.99 – Lost (Season 6), Modern Family (Season 1), True Blood (Season 1)

$14.99 – Chuck (Season 3)$19.99 – Fringe (Season 1), Terminator: The Sarah Connor Chronicles (Season 2), House (Season 6), Burn Notice (Season 3), The Simpsons (Season 13), Heroes (Season 4)