Kevin Smith's 'Red State' Teaser Trailer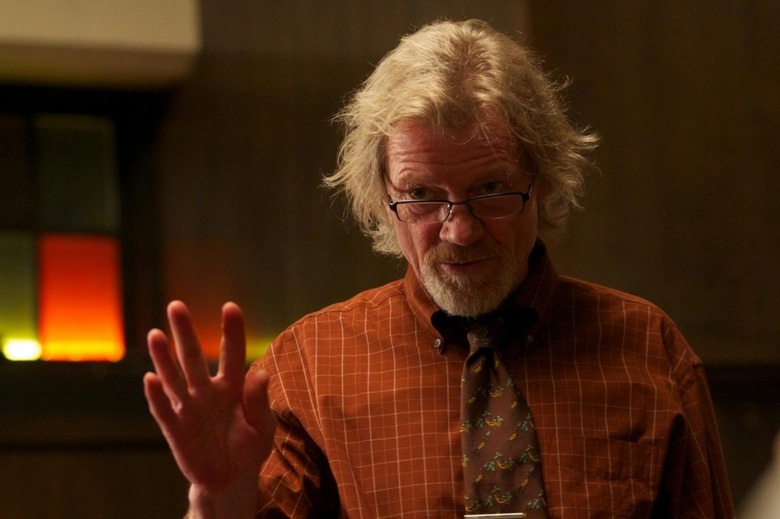 Briefly: You may have heard it on his podcast, but now you can watch the teaser trailer for Kevin Smith's upcoming thriller Red State, starring Michael Angarano, Kerry Bishe, Nicholas Braun, Kyle Gallner, John Goodman, Melissa Leo, Michael Parks, Kevin Pollak and Stephen Root. Interestingly enough, though the film will have its world premiere at Sundance, where Smith plans to auction off the rights, the trailer lists a March release date.
Check it out after the jump.
As you can tell, this is a tease in every sense of the word. A sizzle reel of juxtaposition that leaves you incredibly curious about how the film plays out.
And though we've seen all the posters and stills from the movie, having now seen actual footage (even if it is cut together in rapid fashion), the one thing most of us will certainly take away from this trailer is how different Red State looks from the rest of Smith's work. There are deep hues, muted colors and it even looks like some shaky cam in there too. No bright Mooby's here. The trailer also seems to be focusing on the terror of the characters: running, screaming, looks of fear and looks of pure madness. To me, one of the most chilling parts is the look on Melissa Leo's face – it's almost psychotic ambivalence.
As for the March release date at the end of the trailer, what do you think? Is Smith just being presumptuous or is there already a deal in place? I guess, we'll just have to wait and see.
So – let's have at it. What do you all think of the teaser? Has he, like the characters in the film, found redemption?
Download different versions of the trailer at CoopersDell.com. And, if you read all that and have no idea what the film is about, here's the plot description.
Ever since Clerks (cowinner of the Filmmakers Trophy at the 1994 Sundance Film Festival), Kevin Smith has been known for his sharp, subversive, comedic writing. He shifts from comedy to horror with Red State and aptly demonstrates that good writing transcends genre.
Red State begins by following three horny high-school boys who come across an online ad from an older woman looking for a gang bang. Boys being boys, they hit the road to satisfy their libidinal urges. But what begins as a fantasy takes a dark turn as they come face-to-face with a terrifying "holy" force with a fatal agenda.
Instead of relying on archetypes and predictable formulas, Smith meticulously fashions all-too-real characters, utilizing exceptional performances (notably by Michael Parks) and an intelligent script. His realistic style gives the film an intimate feeling, heightening the terror to biblical proportions. Red State is a shocking new kind of horror film that aggressively confronts higher powers and extreme doctrines with a vengeance.