Geek Deal: John Wayne Ultimate 25 Movie DVD Collection (With Bonus $5 Amazon VOD Credit) For Only $4.99, Get An Additional $5 Free VOD Credit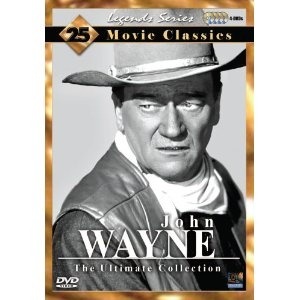 We may receive a commission on purchases made from links.
Amazon is selling the John Wayne Ultimate 25 Movie DVD Collection (which comes with a bonus $5 Amazon VOD Credit) for only $4.99.
John Wayne remains one of the most beloved icons in the history of American film. With over 142 lead performances, his prolific career established him as the symbol of an American West that epitomized the virtues of courage, toughness, humor and loyalty. This amazing collection features 20 Westerns, 3 Adventures, one Comedy, and a John Ford Documentary.
Titles Included Are: Angel and the Badman, Blue Steel, The Dawn Rider, Desert Command, Hell Town, His Private Secretary, The Hurricane Express, The Lawless Frontier, The Lucky Texan, The Man From Utah, McLintock, 'Neath Arizona Skies, Paradise Canyon, Rainbow Valley, Randy Rides Again, Riders of Destiny, Sagebrush Trail, Shadow of the Eagle, The Star Packer, Texas Terror, The Trail Beyond, West of the Divide, and Wind of the Wasteland.

Amazon is also giving away an additional $5 Amazon VOD credit to anyone who follows their @AmazonVideo twitter account and tweets a message. Click here for details.