First Look: Tom Hardy In 'Tinker, Tailor, Soldier, Spy'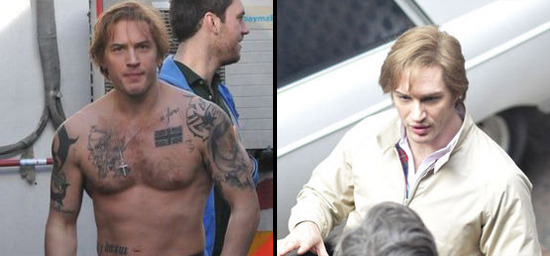 Got to love Tom Hardy. Not only one of the better actors out there, he's also one of the better-looking new actors around. But he's not afraid to play with image, whether it's fighting cops naked while covered in black paint for Bronson, or sporting some questionable hair and loads of not so impressive tattoos for his role in Tomas Alfredson's Tinker, Tailor, Soldier, Spy.
That's Mr. Hardy set up for Tinker, above, and it's not exactly what I expected to see. Doesn't change the fact that the film is one of the ones I'm quite excited to see in 2011. If you've missed our many previous reports, check the full cast: Gary Oldman, Colin Firth, Benedict Cumberbatch, Ciaran Hinds, Mark Strong, Svetlana Khodchenko, Toby Jones, John Hurt, Stephen Graham and Kathy Burke fill out Let the Right One In director Tomas Alfredson's adaptation of a John Le Carre novel, with a screenplay by Peter Morgan (Frost/Nixon). Bigger pics after the break.
Set during the cold war of the 1970s, the story kicks in when retired MI6 agent George Smiley (Oldman) is called back to serve when a high-ranking member of MI6 is suspected of being a Soviet mole. [ComingSoon]