'Cedar Rapids' Trailer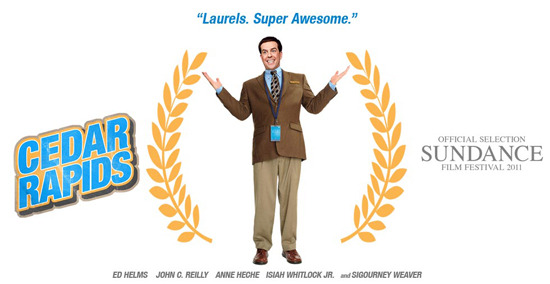 The first big film Ed Helms booked after the success of The Hangover was Cedar Rapids, in which he plays a naive smalltown insurance guy who is sent to the 'big city' of Cedar Rapids to represent his company at a convention. Probability of wacky hijinks: very high. Now there's a trailer, which you can see after the break.
Apple has the trailer in HD.
Miguel Arteta directed Cedar Rapids, which stars Ed Helms, John C. Reilly, Sigourney Weaver, Anne Heche, Stephen Root, Kurtwood Smith, Alia Shawkat, Mike O'Malley, Rob Corddry and Seth Morris. It opens February 11, 2011.
Here's the synopsis.
To call insurance agent Tim Lippe (Ed Helms), "naive" is a gross understatement. He's never left his small hometown. He's never stayed at a hotel. And he's never experienced anything like Cedar Rapids, Iowa. Sent to represent his company at the annual insurance convention, Tim is soon distracted by three convention veterans (John C. Reilly, Anne Heche and Isiah Whitlock Jr.) who will show him the ropes and push his boundaries. For a guy who plays everything by the book, this convention will be anything but conventional.