Sam Worthington Agrees 'Clash Of The Titans' Kind Of Stunk; Sequel Will Be Better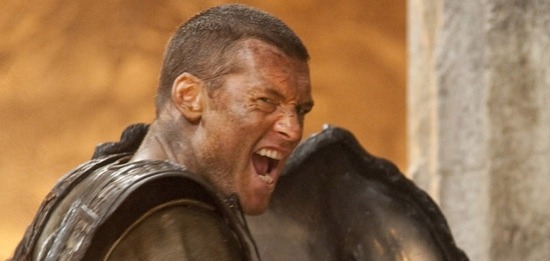 It takes a big man to admit he's wrong and Sam Worthington is certainly a big man. The star of the biggest movie of all time, Avatar, had quite a year in 2010, riding the box office and award waves of Pandora while also headlining Clash of the Titans, which pulled in almost half a billion dollars worldwide. (Yes, you read that right.) Worthington is getting ready to shoot a sequel to Clash of the Titans called Wrath of the Titans, directed by Jonathan Liebesman and scheduled for March 30, 2012 release. Not only has he said this will be the movie fans want, he agrees that the first film wasn't all it could be. Read his quote after the break.
Talking to Moviefone from the set of his new movie, Man on a Ledge, he had this to say about the first Clash of the Titans as well as its sequel:
I just think we can improve on it. I think the first one, we kind of let down some people. And yeah, I totally agree. The only point of doing a sequel is either the audience demands it or you believe you can better the first one. What we're setting out to do with this one — the writers and the director and myself — is improve. I think I can act f***ing better, to be honest ... Just take all the notes from people that I have been reading about on the 'net and give them a movie they f***ing want. This one I want to kind of try to satisfy a lot more people.
He also put the whole audience/filmmaker interaction into context:
I've always said you make movies for an audience, that's who you make movies for. If the audience is speaking, it's like the old gladiator thing, they give us the thumbs up/thumbs down, you want to stay alive in that coliseum as long as you can.
There's a lot to say about these comments. The first thing is it's obvious Worthington is still relatively new to this business because nobody who has been around for a long time would admit to personal failure like that. Obviously no one admits a movie is bad before it comes out but imagine someone seasoned like Robert De Niro saying, even in retrospect, that Little Fockers was actually bad. It would never happen. (Unless, of course, you're Shia LaBeouf and you admit that both Indiana Jones and the Kingdom of the Crystal Skull and Transformers: Revenge of the Fallen were bad.) So, I give Worthington all the respect in the world for taking some responsibility for the film's failure.
Second, it's just another example of the fact that people who have actual influence read what's said on websites like ours and listen. We knew that was the case with television shows like Lost where things could be changed on the fly (Nikki and Paulo, anyone?) but we rarely hear about it affecting movies, simply because by the time they hear feedback, it's totally done.
Finally, I feel Worthington is in the minority in saying that audience reaction is as important as they were at a gladiator match. Most filmmakers would agree you make movies for an audience, but only in getting them to pay to see your work. I believe many filmmakers don't care about our reviews or reactions and rarely will they actually adapt to those reactions (Unless, of course, you're Michael Bay who has also admitted to the failures of Transformers: Revenge of the Fallen.) They stick to their personal tastes and hope we mesh.
What are your thoughts on Worthington's comments?