Video Game Bits: Han Solo & Princess Leia Die, 'Back To The Future' Release Date And Video And More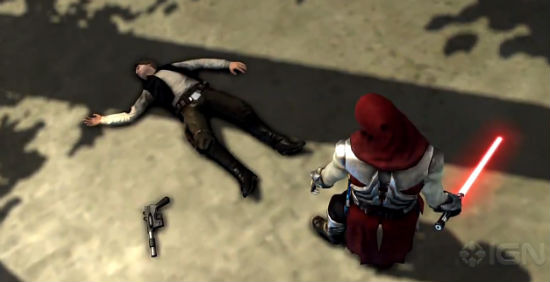 In our desensitized world, it's becoming more and more difficult to shock people. Occasionally, you'll be shocked at the movies or on TV but to shock someone in a video game seems impossible. Until you look at the photo above. IGN has some videos from The Force Unleashed 2 downloadable content Battle for Endor that not only show Princess Leia being murdered, but Chewbacca and – yes -  Han Solo too. Seeing these iconic characters die – even in a video game – is pretty shocking.
In other movie related video games news, we finally have a release date for the first episode of the brand new Back to the Future video game, info on a new Conan game being developed and info on the death – once again – of an Ender's Game project, this time the video game. Read about them all and watch the sacrilegious videos after the jump.
I'm still too upset to show you the Han Solo and Leia death videos. We'll save those for last.
Instead, we'll start in the future. The first episode of the Back to the Future video game will be released for PC and Mac on December 22. In it, you'll play as Marty McFly who goes into the past to meet Doc Brown when he was only 17 years old. Check out a video of the encounter below and click here if you'd like to preorder the game. Thanks to Geek Tyrant for the heads up.
Next up, Joystiq is reporting that Paradox and Digital Development Management are beginning to develop a new Conan game which may, or may not, be related to the 3D Conan movie that'll be released in August. However, if they want to ride the wave of publicity, they should probably get cracking to finish the game by next Summer.
Ender's Game is one of the best and most influential sci-fi books ever written but it's a bastard child anywhere off the page. Though Marvel was able to make some comic books about it, a movie adaptation has never really gotten of the ground and now it seems that Epic Games, who did Gears of War and just inherited the rights, will be shelving what they called "an amazing design" for an Ender's Game game. So disappointing. Thanks to Gamespot for the info.
All right, it's time. Here's the IGN video footage from Battle for Endor, the DLC for The Force Unleashed 2 featuring the deaths of Han Solo, Chewbacca and Princess Leia. Seriously though, Star Wars fans, be prepared to be taken back a little. Thanks to io9 and Topless Robot.
Which piece of video game news piques your interest the most? And were you at all shocked by the Star Wars deaths ?