Miramax And The Weinstein Company Teaming To Produce 'Bad Santa' And 'Rounders' Sequels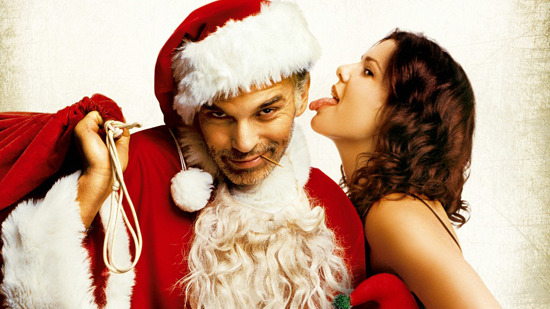 UPDATE: Kevin Smith has responded to the mention of a Clerks sequel. His note, via Twitter, is after the break. Original article follows.
Now that the handover of Miramax to new ownership is really going forward, the company is making an interesting move. Miramax announced this morning that it will team with The Weinstein Company — aka the men who founded and then left Miramax — to produce sequels to a handful of Miramax titles.
One of the first announced projects is a sequel to Bad Santa, which Billy Bob Thornton had recently discussed as being a project of interest. Rounders and Shakespeare in Love sequels are also in the works, with more possibly to follow. More info after the break.
Note that at this point we've got no idea about the creative teams for these films, so don't get too excited just yet. And given Kevin Smith's response, I'm betting that the original creators of some of these films are finding out about this plan the same way we all did.
Let's go to the press release for further info about what might be down the road:
The other potential sequels and TV projects  are Bridget Jones's Diary, Copland, From Dusk Till Dawn, Swingers, Clerks, Shall We Dance, and The Amityville Horror.  This partnership augments an existing relationship between the companies on such franchises as Scream 4 (to be released April 15, 2011), Spy Kids 4 (to be released August 19, 2011) and Scary Movie 5.
Some of those possibilities — and it is important to stress possibilities — are exactly what you'd expect. Bridget Jones, From Dusk Till Dawn, even Clerks, which Kevin Smith has mentioned as a possibility. But whoa — Copland? That's kind of a happy surprise. There's been talk of a continuation of that, but I never figured it would happen.
Here's the rest of the press release:
In addition, Miramax will handle digital distribution on select sequel projects. Miramax and TWC have also agreed to develop new, special edition materials for Blu-ray releases, such as roundtables featuring cast and directors.
"We are very close to these films and the new management of Miramax also feels that we are in the best position to create sequels that are at once worthy and compelling in their own right," stated TWC's Harvey and Bob Weinstein. "We look forward to working with Mike and his team on getting these films into production as soon as possible, and extending our partnership in the years ahead."
Mike Lang, CEO of Miramax, stated: "We are thrilled and honored to work with Harvey and Bob Weinstein. There is no better partner to build on these great films and turn them into franchises, while also creating exciting new TV properties. This agreement will extend the Miramax library while also enabling us to create new content without committing near-term capital."
"This is the perfect addition to our ongoing slate, giving us the ability to work on already existing franchises that have had such lucrative success at the box office, as well as a great starting ground to our newfound relationship," stated TWC COO David Glasser. "We clearly believe it will be mutually beneficial for both companies."
And here's Kevin Smith's response, when asked about a sequel to Clerks as mentioned in the press release, and whether Miramax owns the rights to the film:
Of course. I sold the movie to them in 1994. But I guess if someone was going to exploit the library for sequels, remakes, tv, I'd rather it be the devil I know. Nice to know there's a home for 'Clerks III' if I ever wanted to make it, but hope it doesn't become a home for a Clerks-anything if I'm not involved. Either way, I doubt my sh*t is even something they wanna re-do/remake. They own 'Clerks', 'Chasing Amy', 'Jersey Girl' and 'Jay & Silent Bob Strike Back'. But then it's further complicated by the Jay & Silent Bob of it all. They don't own Jay & Silent Bob; I do. They own 'Strike Back', but they can't make any flick that'd include Jay & Silent Bob (even a 'Strike Back' sequel) without my permission/license.
The only flick they own free & clear of me with no ties whatsoever, is 'Jersey Girl'. And from personal experience, there's little to no interest in a sequel or remake, unless it opens with JLo's dead Mom busting out of her earthen grave, trampling her only begotten daughter's copy of a Necronomicon as she eats her brains. If they wanna do THAT 'Jersey Girl' sequel, I'm totally in. But honestly, all those flicks are theirs to do with as they will. I can't (and won't) complain. At least the Guardians of Ga'Harvey are still in place, looking out for the dopey little (f)art flicks I made so long ago.