Robert De Niro Confirms Al Pacino And Joe Pesci For Martin Scorsese's 'The Irishman'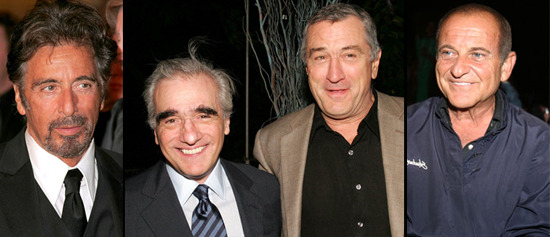 Here's good news and bad news. The good news is that, yes, confirming recent reports, Al Pacino and Joe Pesci are still planning to be part of Martin Scorsese's film The Irishman, which is planned to star Robert De Niro as Mafia hitman Frank 'The Irishman' Sheeran. The bad news is that in talking about the future of the film, Robert De Niro cast doubt on the idea that it will be paired with a much more ambitious second film that has been described in terms related to Fellini's 8 1/2.
More details and some quotes from the actor, after the break.
MTV talked to De Niro while he was promoting Little Fockers and he said,
[W]e do have the one that we're definitely doing. Me, Joe Pesci, Pacino and Marty Scorsese directing.
'The one' in this case is The Irishman, from a script by Steve Zaillian based on the book I Heard You Paint Houses, about the life and exploits of Frank Sheeran. We heard some time ago that it might reunite Martin Scorsese, Robert De Niro and Joe Pesci, with the added bonus of Al Pacino. (The latter who has not ever been in a Scorsese picture, which is kind of a strange thing.) So confirmation of those details is great.
But one of the most appealing aspects of the project came when Robert De Niro said, not long ago, that they wanted to do a second film written by Eric Roth, which would look at the long partnership between Scorsese and De Niro through the lens of a Fellini-esque tale.Let's revisit that quote:
It's an idea that came about from Eric Roth to combine these movies using the footage from 'Paint Houses' to do another kind of a [film that is] reminiscent of a kind of '8 1/2,' 'La Dolce Vita,' [a] certain kind of biographical, semi-biographical type of Hollywood movie — a director and the actor — based on things Marty and I have experienced and kind of overlapping them.
The future of that one seems more in doubt, based on De Niro's statement today:
We have a very good script that Steven Zaillian wrote, and that we're definitely doing. The other idea is more ambitious, to do one with Eric doing a flashback/flashforward kind of thing and to do two movies in one and then separate them as movies. I don't know if that will happen...I would like it to happen if we can get it going.
I'm not happy to hear that the more esoteric second half of the project isn't close to being a reality but I can't say I'm surprised. It sounds like the sort of movie that would be difficult for almost anyone to get made these days. (And yet Synecdoche, New York managed to come into existence. Though that movie's returns probably don't help Scorsese's prospects here.)
Could strong returns for the currently in-progress 3D family film Hugo Cabret help? Won't hurt, that's for sure, but I'd expect it has to do a lot more with making the two-film package look like a cost-effective deal. (One in which I'd guess The Irishman would essentially be subsidizing the Eric Roth-written half, no matter how it all went down.)