'Take Me Home Tonight' Trailer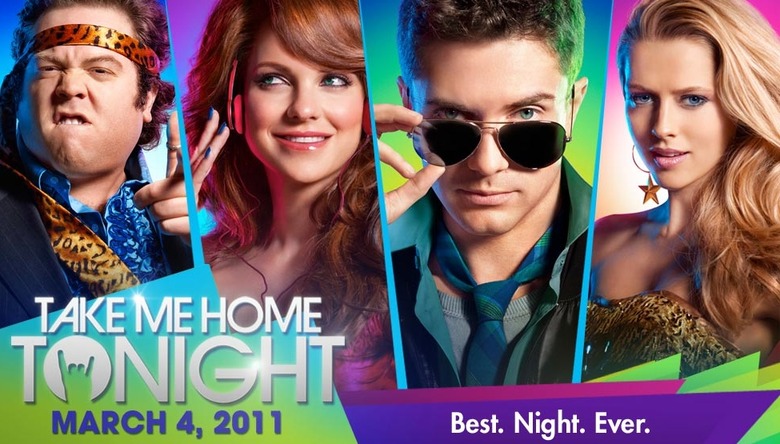 Relativity Media and Imagine Entertainment have finally released a movie trailer for the long-delayed dramedy Take Me Home Tonight (previously titled Kids in America). Directed by Michael Dowse (Goon, Fubar, It's All Gone Pete Tong), the story follows "an aimless college grad who pursues his dream girl at a wild Labor Day weekend party. He, his twin sister and their best friend struggle with their burgeoning adulthood over the course of the night." The movie's cast includes Topher Grace, Anna Faris, Dan Fogler, Teresa Palmer, MichelleTrachtenberg, Michael Biehn, Chris Pratt, Lucy Punch, Michael Ian Black, and Demetri Martin. The project shot in late 2006/early 2007, and has been completed for over three years now, sitting on the shelf.
I usually am a sucker for teen comedy adventures which take place over the course of one night, but this seems a bit generic (or maybe just dated at this point?). Watch the trailer now embedded after the jump. Please leave your thoughts in the comments below.
Watch the trailer in High Definition on Apple. Take Me Home Tonight hits theaters on March 4th 2011.
Official Info:
Release: March 4, 2011
Directed by: Michael Dowse
Written by: Jackie Filgo and Jeff Filgo
Based on a Story by: Topher Grace and Gordon Kaywin
Produced by: Ryan Kavanaugh, Jim Whitaker, Sarah Bowen
Executive Produced by: Dany Wolf, Topher Grace, Gordon Kaywin, Tucker Tooley
Cast: Topher Grace, Anna Faris, Dan Fogler, Teresa Palmer, Chris Pratt, Michelle Trachtenberg, Michael Ian Black, Demetri Martin and Lucy Punch
As the summer of 1988 winds down, three friends on the verge of adulthood attend an out-of-control party in celebration of their last night of unbridled youth. Starring Topher Grace, Anna Faris, Dan Fogler and Teresa Palmer, Take Me Home Tonight is a raunchy, romantic and ultimately touching blast from the past set to an awesome soundtrack of timeless rock and hip-hop hits.
Recent MIT grad Matt Franklin (Topher Grace) should be working for a Fortune 500 company and starting his upward climb to full-fledged yuppie-hood. Instead, the directionless 23-year-old confounds family and friends by taking a part-time job behind the counter of a video store at the Sherman Oaks Galleria.
But Matt's silent protest against maturity comes to a screeching halt once his unrequited high school crush, Tori Frederking (Teresa Palmer), walks into the store. When she invites him to an epic, end-of-summer party, Matt thinks he finally might have a chance with the girl of his dreams. With his cynical twin sister Wendy (Anna Faris) and best friend Barry (Dan Fogler), Matt embarks on a once-in-a-lifetime evening. From stealing a car to a marriage proposal to an indescribable, no-holds-barred dance-off, these friends share experiences that will change the course of their lives on one unforgettable night in the Go-Go '80s.