Jessica Chastain Cast In John Hillcoat's 'The Wettest County In The World'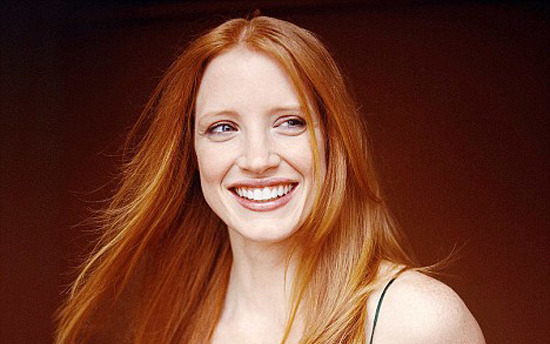 I can't quite express how happy I am that The Wettest County in the World is really moving forward. The film was in development for months last year before seemingly being killed off just as the calendar turned. Now it is happening again, with John Hillcoat (The Road, The Proposition) still directing Shia LaBeouf from a script by Nick Cave. Tom Hardy has also signed on, and now the production has scored one of the rising stars of whom we'll likely see much in the next few years: Jessica Chastain (The Tree of Life).
THR reports that Jessica Chastain will play Tom Hardy's love interest, "a big city woman now living in a small town who at one time was mixed up with gangsters." It's a role that was once linked to Amy Adams, and in which Scarlett Johansson had shown interest in 2009.
This will hopefully be a great follow-up to her role opposite Brad Pitt in Terrence Malick's The Tree of Life. She has also filmed appearances in The Fields (formerly The Texas Killing Fields) opposite Sam Worthington and Jeffrey Dean Morgan, The Help opposite Emma Stone, and Ralph Fiennes' updated Shakespeare adaptation Coriolanus.
The Wettest County in the World is based on Matt Bondurant's novel / family memoir, in which the author's grandfather and great-uncles run a bootlegging operation during the Great Depression and Prohibition.
In 1928, a pair of thieves accost Bondurant's real life great-uncle Forrest at his Franklin County, Va., restaurant. They're after a large cache of bootlegging money and end up cutting Forrest's throat. The story of his survival and his trek to a hospital 12 miles away has taken on mythical proportions by the time Sherwood Anderson arrives in Franklin County in 1934 to research a magazine piece on the area's prolific moonshiners. Soon after Anderson's arrival, two anonymous men appear at the same hospital, one with legs meticulously shattered from ankle to hip, the other one castrated, with the by-products of the deed deposited in a jar of moonshine. The arc of the story lies between the attack on Forrest and that on the two men.