'How Do You Know' Cost $120 Million, $40 Million For Actors Alone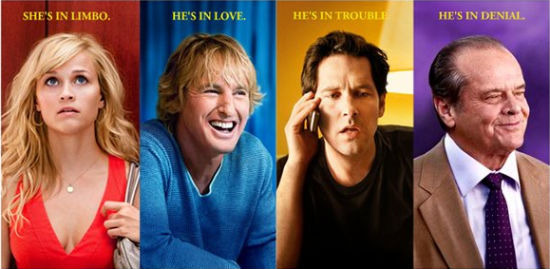 In the midst of the holiday season, when big blockbusters abound, audiences expect to hear that effect driven films TRON: Legacy, Harry Potter and the Deathly Hallows or The Chronicles of Narnia: The Voyage of the Dawn Treader have huge budgets in the hundreds of millions of dollars. We see that money on the screen. It's easy to forget that, while effects can be expensive, movie stars are sometimes even more expensive.
Take a film like James L. Brooks' How Do You Know for example. Seems like the typical highly polished Hollywood romantic comedy. It has the Oscar winning filmmaker, the big name cast, the love driven plot and little to no special effects to speak of. How much does the average audience member think How Do You Know cost? $40 million? $60 million? How about $120 million? How do we know, exactly? That's what The Hollywood Reporter is reporting. Read how and why after the jump.
In the Hollywood Reporter piece, they say that the total production budget for the James L. Brooks' film was $120 million, which ended up only costing about $100 million because of tax breaks from shooting in Washington D.C. and Pennsylvania.
$40 million of the budget went to the four leads alone. Reese Witherspoon, with her newish Oscar and above-the-title star power, commands $15 million. Jack Nicholson, with his Oscars and half a century of front-seat-at-the-Laker-game star power, gets $12 million. Owen Wilson gets $10 million (he must have an amazing agent) and Paul Rudd (who apparently doesn't have as good an agent) gets a paltry $3 million (You're telling me it takes FIVE Rudd's to equal a Witherspoon?). Then there's Brooks, who is expected to pocket a cool $10 million for writing, directing and producing, plus back end. That's almost half the production budget above the line and they haven't shot one frame of film yet.
Of course, the other $70 million went to production and post production. However, that number is higher than usual because Brooks reportedly decided to reshoot both the beginning and ending of the movie, which is obviously quite expensive. Plus he's a "slow and meticulous" director, said one source, which means that everything takes longer than usual. You get afforded that luxury when you are an Oscar-winner with an almost pristine track record, though.
According to the Reporter piece, Sony's best hopes for the film are that makes as much as It's Complicated did last year. That expensive adult romantic comedy cost $85 million and pulled in $220 million worldwide. It also got a Golden Globe nomination for Best Picture, which wouldn't hurt, considering the $120 million doesn't count advertising.
So yeah, when you're deciding which movie to see December 17, while we have already recommended TRON: Legacy, and maybe the kids want to see Yogi Bear, know that seeing How Do You Know isn't a slap in the face to good old fashion blockbuster filmmaking. Instead, it might actually be a vote to spend more money on movies with stars and stories.
Can you believe How Do You Know cost $120 million? How much did you honestly think it cost? And does its insane budget make you think any differently of it?