Magent Buys Distribution Rights To 'Hobo With A Shotgun'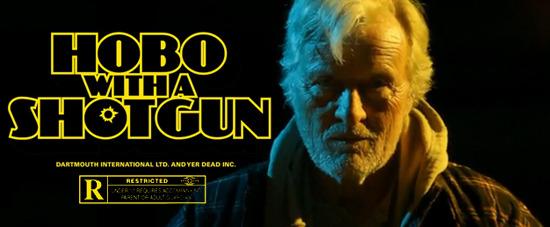 Hobo With a Shotgun started life as a  trailer for a grindhouse film that didn't exist, and writer/director Jason Eisener spent much of this year shooting an expanded feature version starring Rutger Hauer as the title character. The film is scheduled for the Sundance Film Festival in January, but while there it won't have to go through the rigors of a sale for US distribution rights. Magnet, the genre arm of Magnolia, has picked up the film for distribution in the US.
THR reports the pickup and quotes Tom Quinn from Magnet calling the film "Pure blood-drunk, bat-shit-crazy fun," elaborating that "both Jason Eisener and Rutger Hauer were born to make Hobo."
And if you're keeping track of Magnet  purchases, this will go nicely alongside Bangkok Knockout, Vanishing on 7th Street, Black Death and The Troll Hunter. Assuming the company plans another Six-Shooter Film Series for 2011, we might just need one more buy to have the lineup set.
Here's the synopsis for the film, which is directed by Jason Eisner and stars Rutger Hauer, Molly Dunsworth, Brian Downey, Gregory Smith, Rob Wells, Nick Bateman, David Brunt and John Awoods:
Hobo With A Shotgun tells the story of a vigilante homeless man who pulls into a new city and finds himself trapped in urban chaos, a city where crime rules and where the city's crime boss reigns. Seeing an urban landscape filled with armed robbers, corrupt cops, abused prostitutes and even a pedophile Santa, the Hobo goes about bringing justice to the city the best way he knows how – with a 20-gauge shotgun. Mayhem ensues when he tries to make things better for the future generation. Street justice will indeed prevail.
Here's the most recent trailer, which might not be safe for your workplace:
Same goes for this, the original 'fake' trailer: