Teaser Trailer: 'Transformers: Dark Of The Moon'

The official teaser trailer for Michael Bay's third Transformers movie, Transformers: Dark of the Moon, has been released online. The films stars Shia LaBeouf, Rosie Huntington-Whiteley, Tyrese Gibson, Josh Duhamel and Patrick Dempsey and will be released July 1st 2011.
Check out the two and a half minute trailer after the break and read our discussion of what it means.
Thanks to Apple for the trailer. You can watch it in HD there.
Who is the Transformer in the trailer and What Does This All Mean?
First of all, this does confirm that the trailer description we ran a few days ago was accurate, even if it wasn't that detailed. But this teaser seems to actually be stuff from the movie, not a totally independent story like the teaser for the first movie.
It's July 20, 1969. The Apollo 11 moon landing, one of the most famous events in the history of mankind. However, Transformers: Dark of the Moon surmises that the trip held ulterior motives. During the mission, the astronauts end up on the far side of the moon or "dark on the rock," as it were and they have 21 minutes to investigate what seems to be a crashed ship. The hull has been breached. Extensive damage. We are not alone in the universe.
Just then the camera goes deep within the ship to reveal a Transformers fans are already calling "Robot Gandalf." We go through his eye, see all his moving parts, and then get our title card.
Most agree that the Transformer who crashed on the moon in 1969, and is seen in this teaser, is most likely Alpha Trion.
Alpha Trion is one of the Original Thirteen Transformers...He is generally depicted as an ancient mechanoid with a link to Optimus Prime.
The original thirteen Transformers were "created by the god Primus before he went on to create the rest of the Transformers race."
Here is an image of the Transformer in the trailer next to two of the many different reincarnations of Alpha Trion.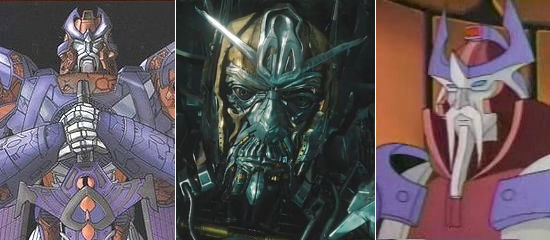 That looks pretty spot on, with the mouth and bars above the eyes.
Do you agree that it's Alpha Trion, one of the original thirteen transformers? And what do you think of this teaser?