Abandoned 'Toy Story 3' Concept Art Shows The Sequel That Could Have Been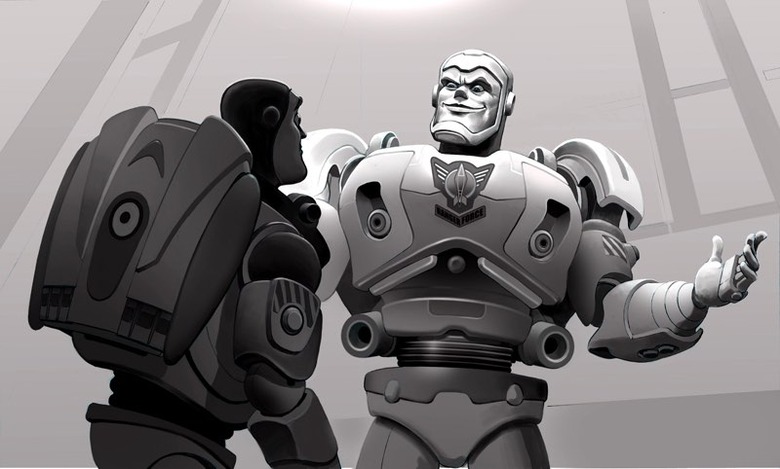 Update From Editor Peter Sciretta: In 2005, Disney and Pixar were gearing up to split ways and was Disney Animation was creating its own and very different version of Toy Story 3 without John Lasseter and gang. A ton of new images have found their way online from the abandoned version of Toy Story 3. Hit the jump to see the abandoned Toy Story 3 concept art images now.
Abandoned Toy Story 3 Concept Art
The original story by Germain Lussier from December 7th 2010 follows:
With the incredible success of Toy Story 3, it's crazy to think that Disney was originally going to dump the film onto the home market. The year was 2005 and it looked like Disney and Pixar were going to part ways. Disney, however, owned the rights to Pixar's characters and figured they would cash in by writing and developing direct to DVD sequels to many of Pixar's biggest hits. So they created a company called Circle 7 to do just that. Of course, differences were eventually settled and in 2006, Disney purchased Pixar for $7.4 billion. When that happened, Circle 7's ideas were completely scrapped and the company dissolved. However, there was several months of work done on an earlier version of Toy Story 3 that would have seen Buzz Lightyear recalled to Taiwan and Woody and the gang traveling across the world to save him.
The first few images are courtesy of Bob Hilgenberg and Rob Muir, who wrote the aborted screenplay to the Circle 7 Toy Story 3. They're storyboards by art director Ric Sluiter. Those are followed by conceptual "recalled toys" that Buzz would have encountered in Taiwan, which came from Jim Hill Media. Thanks to both of those sites for these images. Be sure to visit both for more information and art. We only cherry picked.
Based on the pictures, it seems like the Circle 7 Toy Story 3 was much more predicated on action where as Pixar's film ended up focusing on their relationship with Andy. Even Bob and Rob, the original screenwriters, agree that was the right choice. Still, their idea to send the toys out of the country remains an interesting one and proves there are plenty of viable Toy Stories out there. It's a shame that all of this work was only destined for the Internet.
Do you think this idea would have worked? And which of the recalled toys are your favorites?