Sheldon Turner Hired To Write 'Big Tuna' For Michael Mann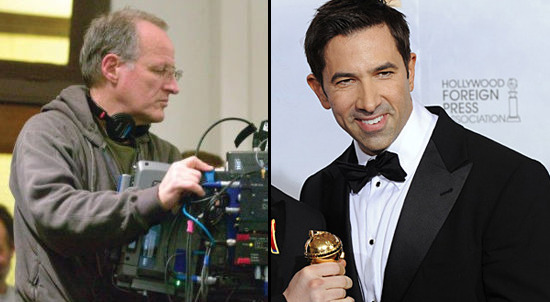 Michael Mann is working on the HBO series Luck, but he still has quite a few feature irons in the fire. There's Agincourt, based on Bernard Cromwell's novel about a man who becomes and archer under Henry V and fights in the Battle of Agincourt. He's got a possible biopic of war photographer Robert Capa as well, though we haven't heard any movement on that in a while.
Another project that was recently discussed as a possible next feature for Michael Mann is Big Tuna, which is a gangster picture about Chicago mobsters Tony "Big Tuna" Accardo and Sam Giancana. And now Up in the Air screenwriter Sheldon Turner has been hired to script it.
Variety says that Sheldon Turner will work on the Big Tuna script as he preps his directorial debut By Virtue Fall. The latter sounds like a potentially fun story about a pair of federal agents who go through a sort of role reversal when one is sent to jail for dealing firearms. Eric Bana is attached to one role, and there has been conflicing info about Colin Farrell or Jeremy Renner taking the other. Mr. Renner seems pretty busy of late, and contrary to a report that he was out of the picture, Variety says Colin Farrell is still attached.
Back to Big Tuna, though, which Mr. Mann has called "a classic tragedy of megalomania and hubris." So that makes it sound appealing, especially knowing what he can do with all those factors.  We've talked about Sam Giancana recently, as he could factor into the possible Leonardo DiCaprio picture Legacy of Secrecy.
I'd be very happy to see Michael Mann do another gangster picture, so long as it turns out much better than Public Enemies. (I know that film has defenders, but frankly can't see why — it failed on almost every level for me.)
Tony Accardo rose from small-time hood during the days of Al Capone to be the leader of the Chicago Outfit, ruling and expanding the influence of Chicago organized crime through the '40s and into the late '50s, when he turned over leadership to Sam Giancana. The latter consequently was quite powerful in his own right, and reportedly had a hand in the killings of JFK and Dr. Martin Luther King, Jr.
Accardo and Giancana both supposedly figure into the planned story for Big Tuna, and if that's the case this could be Michael Mann's own Godfather-style film, in that it might be a multi-generational mob epic.