Phil Lord And Chris Miller In Talks To Direct 'Bob The Musical' For Disney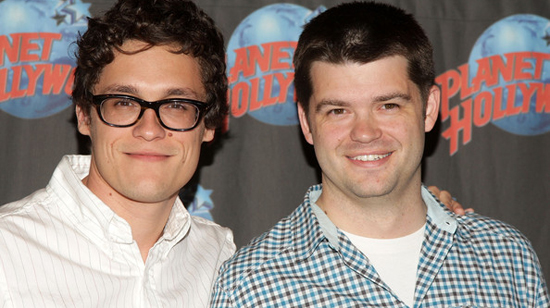 Cloudy With a Chance of Meatballs very quickly turned me into a fan of directorial team Phil Lord and Chris Miller. The film pointed me towards their sharp and funny, if short-lived show Clone High, and has me anticipating the big-screen version of 21 Jump Street, which they're set to direct in early spring 2011.
And now the duo is in talks to direct a musical for Disney. Specifically, Bob the Musical, about a man who can suddenly hear the songs within all of us. Lest that sound too sickly sweet, he's none too happy about the deal. (At least at first.) Details after the break.
THR says the duo is in talks to develop and direct. The story follows Bob, "a regular guy who, after a blow to the head, suddenly can hear the inner songs of everyone's hearts as his reality is instantly turned into a musical, much to his dismay." Marc Shaiman is writing the music and lyrics for the musical.
If this comes together, it will have to be slotted in after 21 Jump Street. (What about that Lego movie the two are also set up to make? As silly as a Lego movie sounds, Cloudy suggests they're the ideal choice to make it. Remember that Phil Lord called their approach "like if Michael Bay kidnapped Henry Selick.")
But this project isn't just getting off the ground; it has seen a couple of creative teams come and go already. Mike Bender wrote an early draft that Adam Shankman was going to make. (That could be where Marc Shaiman came in, as they collaborated on Hairspray.) They moved on and Babloo Mandel and Lowell Ganz took a crack at the script, with Mark Waters (Mean Girls) set to direct. So Lord & Miller would be part of the third team, and the trade mentions that a new writer would likely come on board to rework the script.