Jon Favreau Says Marvel Sees 'Iron Man 3' As A Sequel To 'Thor,' 'Captain America' And 'The Avengers'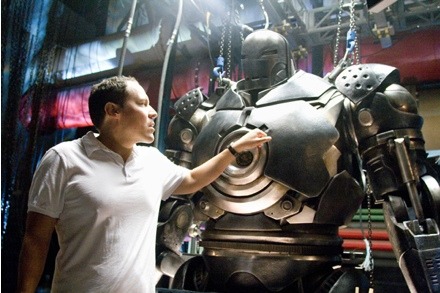 Universal has been giving writers access to Jon Favreau as he works on post-production for Cowboys & Aliens, the better to get the word out about that movie. (We have a
and will have some interviews this week.) In addition to talking about Universal's movie, Mr. Favreau is naturally being asked questions about Marvel movies and Iron Man films in particular. And while it's no secret that the Marvel films are interrelated, he makes clear what Marvel's intentions are for Iron Man 3 — or at least he clarifies what he believes the studio's intentions to be.
The director told
,
Kevin Feige, who's been involved with superhero movies with Marvel movies since the X-Men films, is very aware of his path and how to weave [things together], so in theory, 'Iron Man 3' is going to be a sequel or continuation of 'Thor,' 'Hulk,' 'Captain America' and 'Avengers'... This whole world... I have no idea what it is. I don't think they do either, from conversations I've had with those guys.
Watch the video (below) to get the full intent and context of the last half of that quote. Point is, Kevin Feige and Marvel have certain goals, and as we've known, building one coherent film universe is high on the list. This is not any grand statement about the director being fully committed to Iron Man 3, though he does say "I look forward to working with [Marvel] again." And since Jon Favreau hasn't read a script for The Avengers and doesn't know all the ins and outs of Thor, there's nothing set in stone. But the idea that one movie by a studio is a sequel to all the other movies by that studio is the next point in the line that Marvel has been drawing for a couple years now.
What I hope is that enough planning is being done at early stages that future films can avoid some of the narrative weight borne by Iron Man 2. That shoot was a difficult one for a variety of reasons — when speaking to Mr. Favreau on the set of Cowboys & Aliens he said that it was a relief to be shooting a much more structured picture. He alludes to some of the nature of the Iron Man shoots in the latter half of this interview clip, as well.
There's some super-advance location news about Iron Man 3, too, as the
(via
) reports that Marvel is doing some advance scouting of the
(aka the Experimental Media and Performing Arts Center) in Troy as a possible location for the film.
Iron Man 3 is
on May 3, 2013.