'The Simpsons' Bits: Second Movie Idea And Live Action Segment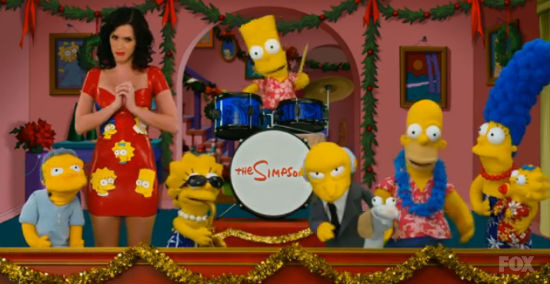 After more than two decades on the air, one would assume it might be difficult for The Simpsons to remain current and culturally relevant. However, while it's not as popular as it was fifteen years ago, week after week, the show remains as solid as any comedy on TV. Then, every once in a while, the show does something so outrageous, we all step back and marvel at their brilliance. There was that awesome Banksy moment a few months back and it happened again Sunday night when, during their Season 22 Christmas episode called The Fight Before Christmas, the final segment of the show was done in live action featuring a cameo by pop superstar (and wife of Russell Brand) Katy Perry.
Plus, producer James L. Brooks has stated he and his fellow show producers have jumped the biggest hurdle when it comes to possibly making a sequel to The Simpsons Movie. Watch the clip and read the quote after the jump.
Here's the clip of the live action segment from Sunday night's The Simpsons.
As for the movie, producer James L. Brooks is out promoting his new film How Do You Know, starring Paul Rudd, Jack Nicholson, Owen Wilson and Reese Withersoon, and he spoke to Coming Soon about the possibility of a second Simpsons film. The reason the first film took such a long time to come to fruition was because the writers and producers were having difficulty agreeing on an idea that would be big enough for a movie but also wouldn't suck. Well, apparently, they now have that idea for a second movie...but there's no guarantee that it's going to happen.
[The Simpsons Movie] was a huge success and we're very open to [a sequel] and we have a beginning notion if we want to do it, but the series always comes first with us. The series is always primary to us.
Do you want to see a second Simpsons movie? Did the first one live up to expectations? And, while we're on the subject, do you think the show will ever end? Should it ever end?