George Clooney To Produce, Possibly Direct 'Enron'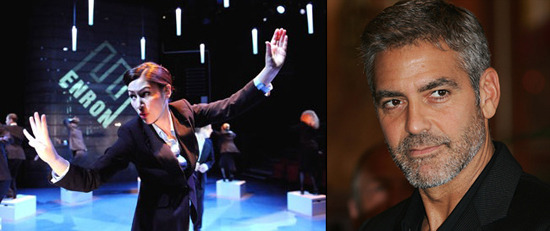 The defining screen take on the collapse of energy company Enron is currently the documentary Enron: The Smartest Guys in the Room. But there is a UK stage version of the story, a satirical take called simply Enron, that has been optioned by producer Laura Ziskin. To the chagrin of the UK company, she has attached George Clooney to produce a screen version, which he will possibly direct.
Original playwright Lucy Prebble will write at least the first draft of the screen version, reports the Guardian, which goes on to lament that stage director Rupert Goold will not be involved, nor will the UK cast. But really, how often does the cast of a stage production carry forward when a screen version is developed? It happens, but that's not the norm.
The play isn't quite a musical, but it does have a few song and dance numbers. More important, it has been praised for blending savage comedy and a skillful breakdown of the personalities at play and the at times complex financial machinations that led to Enron's collapse.
The Times Online called it "a bitter but highly entertaining fable for our times," while the NYT, before the show's unnaturally short Broadway run in the US, explained that "figurative elements help to make sense of arcane financial transactions, like three prowling, red-eyed velociraptors that represent structures for hiding debt."
There's work to do here yet, so Enron won't be happening soon. The script has to be written, and in the meantime Mr. Clooney will direct and appear in The Ides of March, and possibly Steven Soderbergh's The Man From U.N.C.L.E. So don't expect much movement on Enron for a few months, unless someone else is set to direct.
At once a case study and an allegory, the play charts the notorious rise and fall of Enron and its founding partners Ken Lay and Jeffrey Skilling, who became reviled figures from the financial scandal of the century, with quotes like, "The only difference between me and the people judging me is they weren't smart enough to do what we did." Mixing classical tragedy with savage comedy, Enron follows a group of flawed men and women in a narrative of greed and loss which reviews the tumultuous 1990s and casts a new light on the financial turmoil in which the world finds itself in today.